The Soi Company Announces 2013 Holiday Candle Collection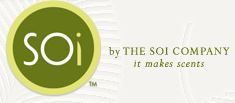 MODESTO - November 29th, 2013 - The
Soi Company
is proud to announce the arrival of five new fragrances for the 2013 holiday season.
Inspired by seasonal scents of a classic winter wonderland, The 2013 Holiday Collection aims to complement all households with the warm, inviting fragrances of the season. From the crisp, refreshing aroma of frost-kissed trees, to the sweet, savory scents of peppermint candies, the collection hopes to invoke joyous memories of holidays past while helping craft the perfect environment to create new ones.
Fragrances represented in the collection include
Fresh Balsam
, a delightful multi-note scent combining Douglas fir needles, cedar, and smooth sandalwood. The
Eggnog
scent invokes the essence of the classic holiday drink with the aromas of ground cinnamon, fruits, and just a hit of spiced rum. Other new holiday scents include Mistletoe, Peppermint Kiss, and Winter White. To complement the arrival of these new fragrances, The Soi Company is also unveiling a new packaging featuring stylish embossed graphics and ribbon accents.
"When it comes to iconic and cherished scents, there's no time quite like the holidays" said Dan Maurer, Founder of The Soi Company. "With this collection, we wanted combine those seasonal aromas with the all-natural, eco-friendly elements that our customers love about our candles".
The
Holiday Collection
is available in a wide variety of sizes and is available for purchase now at
www.thesoico.com
. Free shipping is available on all orders over $75 by using the coupon code "Ship75" at checkout.
About The Soi Company
All Soi Company candles are hand-poured in the USA using all-natural, 100% FDA approved kosher soy oil, allowing the candles to burn 40% longer and free of harmful toxins found in paraffin-based candles. Since soy oil melts significantly cooler then wax, the melt pool of all their candles does not burn and can be used as a moisturizer to soothe dry, irritated skin. For more information, call (209) 544-0300 or visit
www.thesoico.com
.