Annabelle's Wigs Announces Perfect Party Hair Support Line.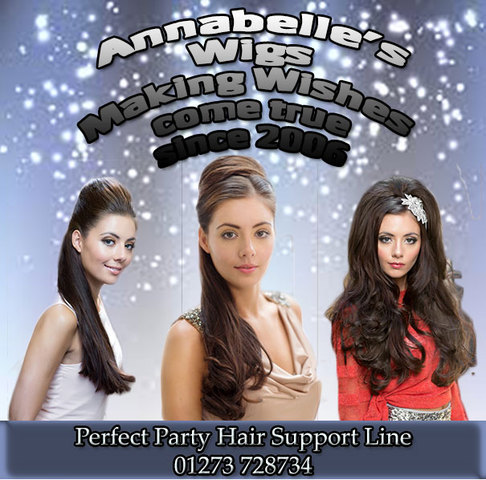 With several seasons firmly under their belt Annabelle's Wigs recognizes the added Christmas tensions of wanting to look your super festive best whilst having to go directly to the party, missing out your usual pre-party pamper.
The 'Perfect Party Hair Support Line' open Monday to Friday 9am to 3pm has been created to provide party hair inspiration & tips for busy women at this hectic time of year. In response to clients plea's of how to tackle the tricky transition of professional woman to party diva director Claire Pateman reminds us "Our
¾ hairpiece extensions
work perfectly for this dilemma.
For even more drama it's worth considering an extra sleek daytime look, magically transforming itself into abundant, voluminous locks simmering with party intentions in under 5 minutes." A
tutorial
about how to integrate the hairpiece extensions can be found on their web site. Claire goes on to say "we've also been fielding questions about how to achieve the cool, sophisticated sleeked back look so hot at the moment. Our sleek pony
Angela
bolsters volume and adds length to ponytails, and remember a little touch of a light hair wax around the hairline keeps stray hairs in place."
If you prefer a more exuberant festive expression hot holly berry red hairpieces are found in full head wig
Alexis
,
Marnie
and
Rhiann
a. Half wig
Gabby
works with red hair, a Santa hat or sparkly headband, and their beautiful bobs
Lois
and
Maisy
come with and without added sparkle. Lino Carboserio's heat resistant clip in wavy pony
Poppy
and AW's poker straight
Tara
tinkle with just the right holiday vibe. Or if you're more frosty than Jack you might prefer the cool blue sparkly bob
Stella
? Topping things off as nicely as a well dressed Christmas tree the sparkly, platinum white bob
Angel
might just bring some of your Christmas wishes true.
If you haven't found the answer you want here don't forget to call Annabelle's Hot Party Hair Advice Line on 01273 728734: Always Hair to Help.