The One Stop Solution To Buy The Perfect Watch – Uniwatches.dk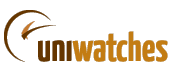 It is one of the most difficult tasks to choose a watch. Firstly you have to go store to store to check out the variety and remember exactly which one you liked at which store if you need to go back and get it, then finally pay a huge price for it when you can get it for much cheaper online.
Many people think that there is a risk factor involved in online shopping. The authenticity of the product and weather it is worth the money or not are some of the major fears people face. Uniwatches.dk assures you that the watches that are exhibited on the website are genuine and can be verified and also are shipped free to the customers' homes so that they can save on a whole lot of money from the shipping charges. The variety of watches available range from classic to casual, formal to sporty, heavy and bulky to light and simple. Anything that you can expect from a watch is here on Uniwatches.dk.
Apart from being an e-commerce website,
http://www.uniwatches.dk/
is also up to date with all the developments that take place in the industry - the different types of watches that are launched by the different brands, the innovations in the technology and every other small detail and tries to incorporate it continuously in the website. The home page of the website showcases the watches that are most popular or most bought and the ones that are discounted, along with short articles about the different brands.
It is not just a website, it is a store, a portal and everything that one needs when they want to know something about a watch or a brand, all present on your computer screen from the comfort of your home.
More info about the different designer watches on the website you can find here:
http://www.uniwatches.dk/gender/designer-ure/4