Ganesh Releases the Cyclone Series High-Performance Multitasking Bar Machines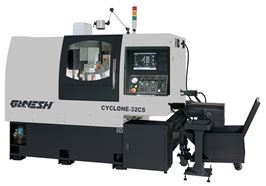 A leading manufacturer of industrial machines, Ganesh Machinery is proud to announce that it has released the Cyclone Series of multitasking bar machines. These high-performance machines allow for "done-in-one" work production, allowing for substantially enhanced efficiency by foregoing the need to move parts from one machine to another.
The Cyclone Series from Ganesh includes a variety of world-class machinery, such as the Cyclone GTS twin-opposed spindle slant-bed CNC lathe with dual-parallel gang tool slides. This is the world's fastest lathe in its class. It is available with up to 1-5/8" bar capacity and features efficient simultaneous front and backside machining that uses twin independent gang tooled cross slides. A "C" axis provides for full 6-axis capability for milling on both the main and subspindle and allows for the accurate transfer of hex, square, and extruded shaped bar stock. The 7200-pound Cyclone GTS features heavily ribbed cast-iron construction for enhanced productivity, superior surface finish, and improved tool life to meet an organization's machining needs.
When a Y-axis is necessary or more complex milling geometry is present, the 7-axis Ganesh Cyclone CS-32 CNC turn/mill center is the machine of choice, offering simultaneous front and backside machining efficiency. With 27-tool positions, including 11 ER-20 collet ½" capacity driven tool spindles, it offers superior "done-in-one" machining capability.
When a B-axis is a requirement for working angle features, businesses should consider the 9-axis Ganesh Cyclone BY-2 B axis turn/mill, which provides 12 B-axis tools that can also perform cross and axial milling on the main and subspindle. There is a separate Y-axis tool slide for the main spindle and subspindle. The Cyclone BY2 provides 36-tool positions with 18-driven tools for complete "done-in-one" simultaneous machining efficiency.
When putting more tools in the cut is a requirement, Ganesh offers the 11-axis Cyclone 3TMY CNC Twin Spindle Three Turret lathe with 3 tool turrets, each with 16-tool stations for a total of 48-tools. Each tool station can have a driven tool powered by the 7.5-HP live tool motor, and each tool station is capable of holding more than one cutting tool. Up to 30-horsepower is available for the main spindle to make short work of the 2-3/4" bar stock when all three turrets are in the cut simultaneously, for the ultimate in "done-in-one" simultaneous machining. There is also a twin-turret version of the machine, and both two- and three-turret versions are available in 2" bar capacity.
For more information, please visit Ganesh Machinery online at
www.ganeshmachinery.com
. The company can be reached by phone at 1-888-542-6374.
About Ganesh Machinery
Founded in 1985, Ganesh Machinery has established itself as a leading manufacturer of industrial machines. The company's line of products includes high-quality lathes, screw machines, mills, turning centers, and more. Ganesh, based in Chatsworth, California, manufactures its equipment in a 15,000-sq.-ft. facility, which is supported by a 40,000-sq.-ft. warehouse.
Email Ganesh Machinery, Inc.