Holiday Gifts for Children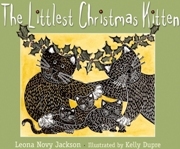 The Littlest Christmas Kitten
is a read-aloud story about the night Jesus was born and why the cats continue to remember this night.
Here we see a Mother Cat frantically searching for her little lost kitten. Before the night is over there is the crying of a baby and angels singing His praises. Animal witnesses to the nativity are in awe as they pay homage to this special baby.
Cats have been part of the celebration of Christmas for centuries. Many stories, poems and songs are written about them. They are featured on Christmas cards and on decorations and ornaments. Here is a segment from "O Magnum Mysterium" that references the importance of animals to the Holy Night:
O great mystery
and wondrous sacrament,
that animals should see the newborn Lord
Lying in their manger.
In this Award Winning childrens' book,
The Littlest Christmas Kitten
is found the legend of why cats remember and celebrate this day. Told through bold, colorful wood cut illustrations, this story reflects the importance of that Holy Night.
Illustrator Kelly Dupre uses playful wood cut illustrations to complement the story. The author Leona Novy Jackson taught child development in middle and high school family and consumer sciences classes. She stresses the importance of having books available for children and reading with them often.
Books are available at libraries, selected bookstores, or directly from the publisher at
http://www.imagesunlimitedpublishing.com
or ($16.00) from Images Unlimited Publishing, P.O. Box 305, Maryville, MO 64468.