Employers Must Tread Lightly In Recovering H-1B Expenses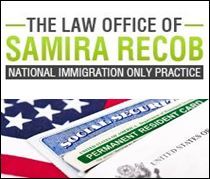 Employers seeking to recover money spent on H-1B visas for employees who leave their jobs before their employment agreement is up should be sure to work with Denver immigration attorney Samira Recob to ensure they don't violate labor law.
Each year, employers spend considerable amounts on H-1B visas for employees. These visas allow employees with special skills to come to the U.S. to work for an employer and are good for three years but can be renewed for up to six. Should these employees quit or if they are terminated before their employment contract is up, it represents a significant human resources investment loss for the employer.
Many employers seek to recoup these losses by withholding pay from these employees' final paycheck, but this practice is illegal and can result in penalties of up to $1,000 per occurrence. The law does not permit employers to recover the funds they spent on processing fees from H-1B employees who depart early, but they may be able to recover other expenses.
State law largely determines what expenses employers may be able to recover from H-1B employees. Colorado employers should consult with a Colorado immigration attorney if they are considering recovering damages from H-1B employees who leave their service before their employment contracts are up. Efforts to recover damages from these employees should also be able to withstand scrutiny from the U.S. Department of Labor.
Samira Recob is an experienced Colorado immigration attorney who can also help employers in other states with issues related to employment immigration law. Recob can help employers determine what damages they may recover from departing H-1B employees and whether those funds are worth pursuing. Recob can also help ensure these employers stay within the law and avoid penalties should they chose to pursue recovery.
About The Law Office of Samira Recob
Samira Recob is an experienced immigration attorney, having handled many work visa, family immigration and asylum cases. Recob's firm specializes in immigration law, and has the skills and expertise to assist in all immigration needs, including H-1B visas, citizenship and naturalization, investor visas and more. For a free consultation, visit
http://www.recoblaw.com/consultation/
or call 303-639-3090.
Email The Law Office of Samira Recob