Brimar Industries and American Legion Donate to Veteran Hospital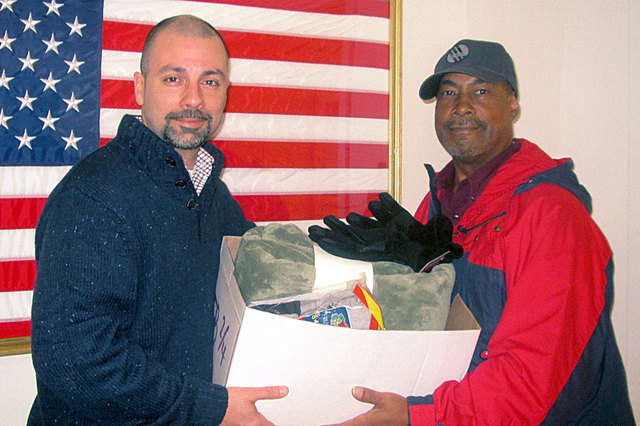 December 7, 2013 - On December 5th, 2013 Brimar Industries, in partnership with American Legion, Post 57, Waldwick, NJ donated $540 in material supplies to the VA Hospital, Lyon, NJ. The donations went directly to assisting Homeless Veterans who enroll in this program for treatment, job training, life skills and counseling. Some of the goods that were donated included: blankets, jackets, toiletries, under garments, socks, shampoo and deodorant.
At some estimates 1 in 5 homeless have served in uniform at one point or another. Many suffer from a variety of mental conditions brought on by their service. The disproportionate ratio of Veterans in the homeless population at large is a scary statistic. Although the VA has done a very good job in helping eradicate this epidemic, support displayed by the above mentioned people and organizations makes the real difference.
Being a Veteran owned and Veteran employed company, Brimar Industries has displayed a strong pride and commitment to those whom have served. As part of their overall corporate volunteering initiative some of Brimar's employees are heavily involved in Veteran's organizations.
When asked about the project, Brimar's Director of Sales & Marketing — also an American Legion member — replied "I couldn't be prouder of my wife who donated time and money to this cause, my fellow veterans at the American Legion for their financial contribution and my job who continuously displays to me what it means to give back. They're all an inspiration to me. I think the people who supported this are really special."
He added "I hope that our decision to contribute to this worthy cause inspires other organizations to reach out to Homeless Veterans organizations and lend a hand. I think this was a worthy endeavor and because of my admiration in those who raised their hands and said "I will help" I am happy to join in."
Brimar continues to show involvement in their community, whether volunteering in local tree planting events, their involvement in the local YMCA in which their President, Brian Costello is a Board Member, or the various other unsung volunteering that a good portion of their employees participate in. Brimar sets an example that small business can make a big difference.
About Brimar Industries
Brimar Industries, Inc., is a manufacturer of a large variety of safety related products, and is the parent of
SafetySign.com
,
PipeMarker.com
, and
WaferSeals.com.
Founded in 1988 as a manufacturer of pipe markers, Brimar has grown into one of the leading sources of safety signs, pipe markers, valve tags, nameplates, traffic signs, parking signs, and mailing tabs.