Local Southfield, Mich. Accounting Firm Launches Educational Blog for Financial Guidance and Tax Information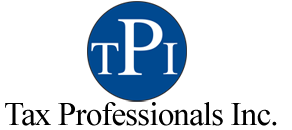 Certified CPA, Milbrun L. Pearson II, of Tax Professionals, Inc., recently launched a new client-focused website, created to guide users though common financial concerns. Pearson's firm is utilizing their website to host a financial blog designed to educate the community on how to better plan for your future and keep more money in your pocket. Since it was launched, the blog has included a wide range of financial topics including how to obtain financial assistance for your gas and electric bills, five of the most common tax deductions, and information on auto insurance rate hikes in Michigan.
"People from all walks of life can often benefit from very simple financial advice. On our website and blog we provide a wide range of financial information for our visitors, whether they own a business or they are just trying to figure out how to save more money each year. There is something there for just about everyone," Pearson said. "We hope this adds an extra layer to the services we provide to our community and clients."
Visitors to the blog are welcome to use a free feature to send questions directly to Tax Professionals Inc. Their questions might even end up as a future blog post. The rest of the firm's website also possesses interactive attributes for financial planning including a free tax refund estimator and free set of financial calculators to help clients make better informed decisions about insurance, investments, retirement savings and more. Current and prospective clients now have access to investment strategy guides, tax strategies for business owners and individuals, frequently asked questions, and other informative content when they visit the website. Some of the services offered by Tax Professionals Inc. include:
"Our site and blog allows clients to learn valuable information about the kinds of services we offer, which ultimately makes them feel comfortable with their financial planner and our firm. We also wanted to give our clients the ability to learn more about their own financial planning, so they can start keeping more of the money they've earned," Pearson said.
About Tax Professionals Inc.:
Tax Professionals, Inc. was established in 1999 by Milbrun L. Pearson II CPA. He has been in the accounting profession for over 20 years. He has extensive experience in both public accounting and private industries. He graduated from Wayne State University with a Bachelor of Science, majoring in Accounting.
He received his Certified Public Accountant license from the State of Michigan in 1999 and is a member of the American Institute of Certified Public Accountants and the Michigan Association of Certified Public Accountants
For more information on tax planning and how an experienced CPA can help you, visit the Tax Professionals Inc. website at taxprofessionalscpa.com.
Email Tax Professionals Inc.