Inaugural Profitable Consultant Series a Success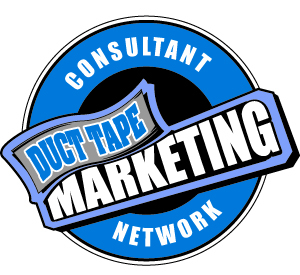 The
Duct Tape Marketing Consultant Network
, as part of their
Profitable Consultant Series
, hosted an online training seminar on Thursday, December 5 titled Speaking for Leads that drew 1,200 registrants. The series is for marketing and business consultants and coaches looking for actionable and profitable tips for growing their business.
The Speaking for Leads session included best tips for:
How to get sponsored to speak
How to make the most of every speaking event
How to turn attendees into hot prospects
Access the full recording at
http://ducttapemarketingconsultant.com/pcs-speaking
.
Visit
www.ducttapemarketingconsultant.com/profitable-consulting
to register for the January 9, 2014 Profitable Consultant Series session – Personalized Lead Engagement System.
Upcoming topics include:
Develop Your Personalized Lead Engagement System – January 9, 2014
5-Step Public Relations Starter Plan – February 13, 2014
Building a Strategic Partner Platform – March 13, 2014
Winning the Local Search Game – April 10, 2014
For a full description of upcoming topics Profitable Consultant Training, visit:
www.ducttapemarketingconsultant.com/profitable-consultin
g.
About Duct Tape Marketing Coach LLC
Duct Tape Marketing Coach, LLC is an international organization of independent marketing consultants and digital agencies that utilize Duct Tape Marketing products and programs to help small business owners develop and follow a systematic approach to marketing producing predictable and consistent results. For additional information, visit
www.ducttapemarketingconsultant.com
or call 866-382-8273.
Email Duct Tape Marketing Consultant Network