Dive Into a Full Year of Underwater Dogs from Willow Creek Press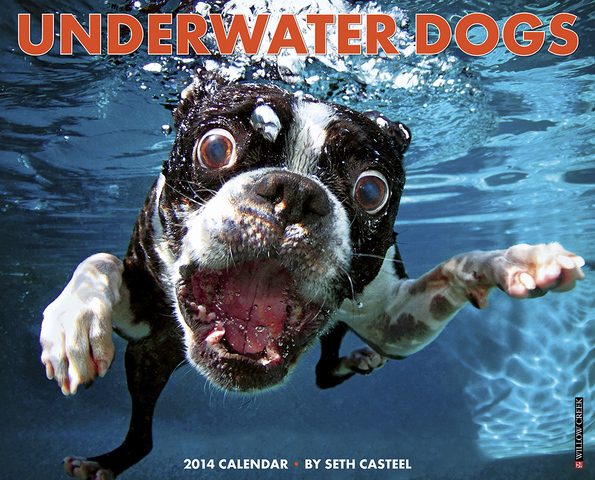 Minocqua WI - (December 9, 2013) – Get ready to plunge into 2014 with an all-new collection of Underwater Dogs, the comical canines relentlessly chasing balls underwater as captured by photographer Seth Casteel. The 2nd Annual Underwater Dogs calendar, published by Willow Creek Press, features the most incredible underwater antics to date.
Ever since Casteel's first few pictures of underwater dogs turned into an international viral phenomenon, demands for more and more images of the hilarious hounds have turned the Underwater Dogs into a publishing success story. This year, Willow Creek offers the
2014 Underwater Dogs Wall Calendar
($14.99),
Mini Wall Calendar
($7.99),
Engagement Calendar
($14.99) and
1,000 Piece "Rocco" Puzzle
($16.99).
Jeremy Petrie, Vice President of Sales for Willow Creek Press, said, "Seth has done a magnificent job compiling some of the most charasmatic images. The latest collection of Underwater Dogs products is sure to make a splash with fans and keep a smile on faces all year round."
About Seth Casteel:
Casteel's business,
Little Friends Photo
, based in Los Angeles and Chicago, specializes in lifestyle pet photography, embracing the at-ease mentality of pets on-location in their natural surroundings. The results are spontaneous, priceless moments of pet's unique personality captured in photographs that will last forever.
About Willow Creek Press:
Our location in the Wisconsin northwoods helps keep Willow Creek Press off the publishing world's radar. Around here, we're more accustomed to landing walleyes and muskies than big books and authors - events hardly worthy of note in Publisher's Weekly. But, a few years ago we did get noticed with the release of Just Labs, a unique and colorful tribute to Labrador retrievers. The book quickly became a bestseller (now with 250,000 copies in print) and frankly startled us with its success. We were not surprised for long, however, and now an entire line of popular Willow Creek Press titles evokes the myriad joys of dog and cat ownership. Today we are known for these high-quality, light-hearted books and feature over 40 such titles in a continually-expanding line. For further information; to browse all of the Willow Creek Products; see all of the gorgeous images contained in our products; as well as place a direct order for your own Willow Creek product, please visit the company website at
Willow Creek Press
and make sure you join us for immediate information and interact with us on
Facebook
,
Twitter
and
Pinterest
.