Uniwatches Offering Attractive Men's Watches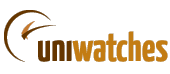 Uniwatches, a Danish online store, is offering a wide range of men's watches at affordable prices for customers across the globe. In addition, the company provides a range of options for buyers to consider when it comes to ladies watches, Fossil and Casio models among others. The online store is the official dealer of some of the most renowned brands from different areas of the world.
More info about the best men's watches and ladies watches can be found here:
http://www.uniwatches.dk/gender/herreure/1
http://www.uniwatches.dk/gender/dameure/2
When contacted, a representative of the company said, "We are very happy to be a popular company for watches. We have a desirable status for friendly and professional customer service. We offer all kinds of stylish and fashionable watches for men and women with guarantee of minimum two years." He further added, "We are very proud to offer this standard of service, collection, excellence and value online. Our company aims to continue with the same success in times to come as well."
According to the sources, there is a huge rise in demands for the exclusive models of popular brands. If experts of the field are to be believed, the same trend is likely to continue in the times to come as well. The festive season of Christmas and many other occasions like Black Friday and Cyber Monday have given opportunities to customers to buy costly items at affordable prices.
Some of the categories offered by the online store include Sports, Automatic, Radio controlled, Pilot, Economy, Divers', Diamond, Digital, Gold watches, Titanium, Watches with Leather Strap, Watches with Rubber Strap and Trekking watches to name a few.
Some of the popular models people love buying from
http://www.uniwatches.dk
are Seiko Premier Kinetic SNP036P1 Wristwatch, Welder K24 3703 Wristwatch, Tommy Hilfiger 1790275 Men's Wristwatch, Ingersoll IN1613BKBK Wristwatch Bison and TW Steel TW127 Men's Wristwatch Grandeur Tech among others. Some of the brands the company works with include Armani Exchange, Citizen Mixed, Bering, Bruno Banani, Bossart, Casio Baby-G, Burberry, Casio Edifice, Casio G-Shock and Citizen Eco-Drive among others.