Refurbished Janitorial Equipment Offers Reliable Service and Value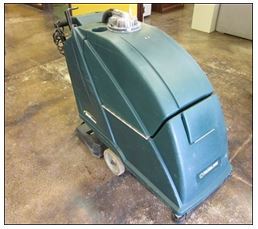 Performance Systems Janitorial Supply, a Vinton, IA, janitorial equipment company, is selling refurbished janitorial equipment –
floor scrubbers
, buffers,
carpet extractors
and more - at prices as low as half the cost of new janitorial equipment.
Keeping your facilities clean and well-maintained is vital for any business or organization. First impressions matter, and when customers or visitors to your facility see a neat, well-ordered property, they're more likely to form a positive opinion of your business or organization. Maintenance requires an investment on your part, and finding cost-effective ways to do an exceptional job in keeping your facility looking great will help improve the fiscal health of your organization.
Janitorial equipment such as heavy-duty items like buffers, scrubbers, floor stripping machines and carpet extractors can be quite expensive, if you buy them new. Purchasing refurbished janitorial equipment provides companies with a less expensive option to obtain the same level of service at a much lower price.
Performance Systems Janitorial has a large inventory of refurbished janitorial equipment. All of our refurbished stock has been thoroughly inspected and repaired and will give our clients years of dependable service. The best part is that our refurbished stock sells for well below the price of new janitorial equipment, sometimes as much as 50 percent off. Our refurbished items are backed by a 30-day limited warranty, allowing our customers to buy with confidence.
In today's highly competitive business environment, finding efficient ways to handle costs such as cleaning and maintenance is a big priority for companies large and small. Performance Systems Janitorial's line of refurbished floor scrubbers, buffers, strippers and carpet extractors can help our clients keep their facilities looking great at a low cost.
About Performance Systems Janitorial Supply
Performance Systems Janitorial Supply provides consumers with refurbished janitorial equipment, including floor scrubbers, parking lot cleaners, carpet cleaning machines and more. With more than three decades in business, Performance Systems Janitorial has highly trained staff who can consult with consumers to find the best cleaning device for their needs. For more information, visit
http://www.psjanitorial.com/
or call 319-472-3011.
Email Performance Systems Janitorial Supply