Willow Creek Press Is In With Flint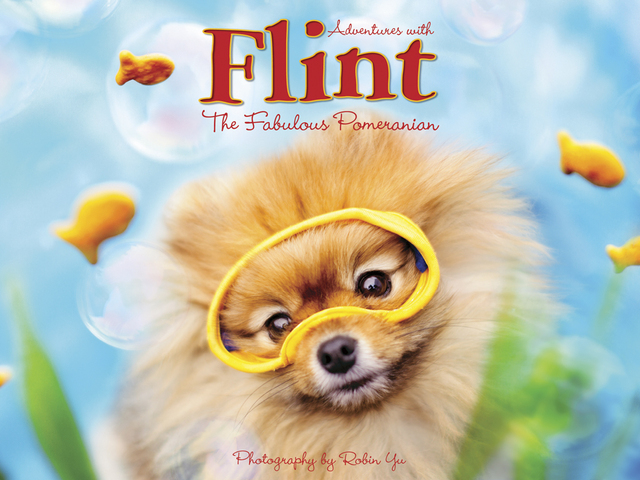 Minocqua, WI - Willow Creek Press has fetched the latest canine sensation and signed an agreement with Flint, the Pomeranian pup, who is capturing the hearts of fans worldwide.
Flint, the 6 year-old pint-sized Pomeranian, is no ordinary small dog. Photographer Robin Yu of Oregon started taking snapshots of her spunky pooch in different situations and posted them on her website
www.FlintthePomeranian.com
. The site is written in the first person as if Flint himself is posting everything.
An excerpt from the website reads, "I love being a model! Not to mention, the pay is pretty great too. Every time the camera comes out, so do all those yummy treats! When I'm not modeling, I keep myself pretty busy. I have lifeguard stations all throughout the house and if anyone needs my help, like getting rid of leftovers or wanting to exercise their hands by rubbing my tummy, I make sure that I am always available."
Flint's new
Facebook
page already has over 2,000 likes and several
You Tube videos
starring Flint are ranked in the top viewership.
Yu said, "He brings all sorts of joy to my life. He does things with all his doggie seriousness and I just find it so cute and funny. He's definitely a bright spot in my life and I'm so lucky to have him."
Flint now joins other Willow Creek Press sensations like
Seth Casteel's Underwater Dogs
,
Just Labs
and
What Cats Teach Us,
as well as over 200 other high-quality calendars, books, and puzzles.
Jeremy Petrie, Vice President of Sales for Willow Creek Press, said, "Flint is a charismatic little pup that is capturing the world hearts and fondness for animals. We are proud to deliver Flint to his fans through a new collectible book, due out in Spring 2014, and an all-new 2015 calendar featuring new and original photos of Flint-antics."
About Willow Creek Press:
Our location in the Wisconsin northwoods helps keep Willow Creek Press off the publishing world's radar. Around here, we're more accustomed to landing walleyes and muskies than big books and authors - events hardly worthy of note in Publisher's Weekly. But, a few years ago we did get noticed with the release of Just Labs, a unique and colorful tribute to Labrador retrievers. The book quickly became a bestseller (now with 250,000 copies in print) and frankly startled us with its success. We were not surprised for long, however, and now an entire line of popular Willow Creek Press titles evokes the myriad joys of dog and cat ownership. Today we are known for these high-quality, light-hearted books and feature over 40 such titles in a continually-expanding line. For further information; to browse all of the Willow Creek Products; see all of the gorgeous images contained in our products; as well as place a direct order for your own Willow Creek product, please visit the company website at
Willow Creek Press
and make sure you join us for immediate information and interact with us on
Facebook
,
Twitter
and
Pinterest
.