Hi Vis Jackets from Capital Workwear - The Safest Option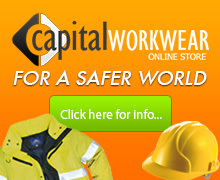 Capital Workwear is pleased to announce its new range of High Vis Jackets from leading brands such as Proforce, Portwest and Sealtex, all of which have been selected to provide high quality, Hi Vis workwear at the most affordable of prices.
Capital Workwear stock
Hi Vis Jackets
starting from just under £13, a price at which you can easily afford to fit out your entire workforce. In these days of health and safety it is vital that you do not put your workforce at risk, yet in these tough economic times it can be area that people may be tempted to cut back on, but at the low prices offered by Capital Workwear then you do not have to cut back on your
Hi Vis workwear
.
The range of Hi Vis Jackets they offer covers a wide variety of application from Hi Vis Rain Jackets and work Jackets, through to traffic and supervisory direction jackets. They also offer both lightweight and heavyweight Hi Vis Jackets as they recognise that rain or shine people still need to be seen, but also that the "One jacket fits all" approach does not work, and that staff need to remain cool in hot weather whilst still being seen. They also recognise the need for your employees to remain dry and warm in bad weather, where it is even more important to remain clearly seen.
Capital Workwear's range of Hi Vis products are carefully selected by the companies buyers from the leading manufacturers of Hi Vis Jackets to offer you the highest quality products at the lowest possible prices. They are also selected based upon their durability, as cheap jackets are no good if they cannot stand up to the daily rigors of work.
Their buyers also look at providing you with jackets that are easy to live with from day to day, and their range incorporates models with mobile phone/radio pockets, easy open Velcro pockets, drawstring hoods, and taped waterproof seams. So whilst Capital Workwear's prices are low, you will find that the Hi Vis Jackets they sell have many innovative features found on Jackets that often cost far more when sold elsewhere.
Capital Workwear
do not just stock a wide range of Hi Vis Jackets though, they also stock bibs, waistcoats/vests, polo shirts, sweatshirts, trousers, as well as fleeces and body warmers for keeping your employees warm on the really cold days, yet at the same time ensuring they always remain visible even in a snowstorm.
When it comes to Hi Vis Jackets and complimenting clothing then they can cover all of your needs, from a man directing traffic or crowds in the heat of summer, through to a builder working on site in a snowstorm.
So be it Summer or Winter, when it comes to Hi Vis Jackets then Capital Workwear can have you covered, quite literally – from head to toe, and at the most attractive prices you will find anywhere online. Give them a call today to discuss all your Hi Vis requirements.