Jayson Woodbridge is Rewriting the Book on Food, Travel and Wine with One True Vine Journal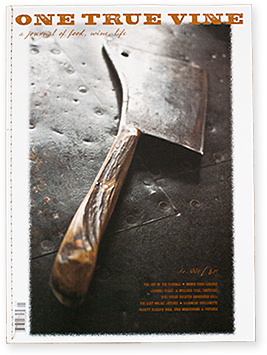 Jayson Woodbridge
, world-renowned winemaker and raconteur and his winemaking team recently published One True Vine Journal, a unique large-format food, wine, and travel journal featuring recipes and stories inspired by travels to the regions around the globe where
Jayson Woodbridge
and his winemakers handcraft their critically acclaimed wines.
Written in Jayson's trademark brash, uncompromising style, One True Vine Journal is designed to blow open the boundaries of staid, cliché food/wine/travel magazines, to literally pull the reader into another world through oversized pictures and words. It rekindles the excitement of eating as a social and cultural endeavor.
The One True Vine Journal is nothing less than the embodiment of their Indiana Jones-inspired quest to, enjoy, learn about, and share the bounties of the world's best wine and food regions across, five countries on four continents: Argentina, Australia, Italy, Spain, and Napa Valley, USA.
Traveling among these regions multiple times per year, Jayson Woodbridge and his talented winemakers have gathered a wealth of stories, adventures, and culinary secrets well beyond the average travel writers. They have intimately engaged with people and cultures from wizened grape farmers in Puglia, Italy to last-of-their-kind mobile butchers in northern California to twelfth generation master distillers to three Michelin star chefs.
Single issues are available in the One True Vine Shop for $33 and visitors are encouraged to sign up for the newsletter to learn when subscriptions become available and find out more about upcoming issues.
About Jayson Woodbridge
In 1999,
Jayson Woodbridge
, a former derivatives trader and investment banker, moved his young family to Napa Valley, California, and established Hundred Acre, which at that time comprised one vineyard, Kayli Morgan. The first vintage of Hundred Acre, Napa Valley Cabernet Sauvignon, Kayli Morgan Vineyard, was produced in 2000 to critical acclaim by Robert Parker and others. Jayson Woodbridge's uncompromising approach to exceptional winemaking has led to a total of five perfect 100 point scores in the Wine Advocate, and a smattering of 99 and 98 point scores.
Jayson Woodbridge
has been featured on television cooking shows, and in numerous industry publications, such as Departures, Food and Wine Magazine, Wine Spectator, Guitar Aficionado, etc. Following the success of Hundred Acre Cabernet Sauvignon, and Shiraz, Jayson has created several other high quality wine brands, including Layer Cake, Cherry Pie and If You See Kay, which are made by
Jayson Woodbridge
with the help of a talented team.
Email One True Vine Journal