Goodwill Car Donations Now Open In Dale City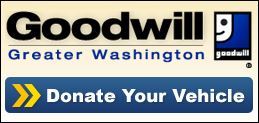 Dale City, VA - New donation center in Dale City, Virginia just opened and is ready to take donations between the hours of 8:30 am and 5:30 pm daily. Stop by and drop off your vehicle and get a tax deduction! How does it work? Well, Goodwill is a federally approved organization which makes your car donation tax deductible. We then provide you with all the documentation you need to file your tax deduction and will even give you a receipt at the time of your pick up, so it can prove that you donated your car. After the car has been sold at a public auto auction, we then mail you a letter containing information on the vehicles final selling price to let you know the car has been sold. You then receive a tax receipt after of the sale, which allows you to deduct the final selling price of the automobile on your tax return.
All the proceeds of your gift will help fund our free job training and other educational programs here in Dale City, Virginia and the community. You will also be contributing building a community where people are empowered to achieve their fullest potential and rise to their highest level of personal success. So if you're planning on donating your car, bring it to the Goodwill auto donation program. The process is rewarding and very simple to do.
About us: Goodwill's mission is to transform lives and communities through the power of education and employment. Goodwill Industries is a large non-profit organization based in the United States and Canada.
Visit
GoodwillCarDonation.org
, or call toll-free 1-866-233-8586, and help us build a better tomorrow, today!
Email Goodwill Car Donations