Attention Medical Coders: Enroll in an ICD-10-CM Course Now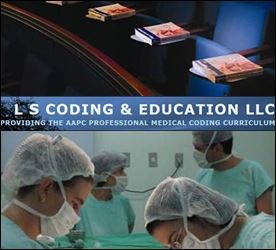 Tucson, AZ - With the implementation of the ICD-10-CM (International Classification of Diseases 10th Revision) classification system set to begin on October 1, 2014, it is imperative that certified professional coders educate themselves on the new system as soon as possible. In response to the proposal made by the Department of Health and Human Services,
L S Coding & Education LLC
, an AAPC (American Academy of Professional Coders) coding educator, has designed a comprehensive online course to help coders pass the required examination needed in order to retain certification. Medical offices need to prepare for the changes now.
What is medical coding? It is a system that assigns codes to specific medical diagnoses and procedures. These codes are used on bills that insurance companies analyze in order to determine payments to the medical providers. Currently, the United States is the only industrialized nation that does not use the ICD-10 based system. However, its implementation is necessary. The current ICD-9-CM system does not accurately consider advances in technology and medical treatments. Also, the standard of care is difficult to measure using current codes.
Certified coders need to educate themselves. This is not easy, considering most coders are employed full-time and have busy lives outside of work. L S Coding & Education LLC understands this dilemma. By providing flexible and affordable classes, the e-learning program allows students to learn in the comfort of their own homes, while receiving interactive support and quality instruction. Students view and hear the teacher work with a class of 25 students, similar to attending a real-life class. Access to the website is 24 hours a day, 7 days a week, meaning learning can fit any schedule.
Coders choosing to take the ICD-10 Classes now will have the knowledge to become an important part of their company's ICD-10-CM implementation process. Beginning one year prior to implementation, which was October 1, 2013, and going through September 30, 2015, coders will have two years to take and pass the 75-question proficiency test. Enrollment in the ICD-10 class will provide access to the class until October 1, 2015.
About L S Coding & Education LLC
Provides an AAPC e-learning program to assist people in becoming Certified Professional Coders (CPC). Lynn Schoeler, president of L S Coding & Education LLC, has taught aspiring coders and physicians for the past 19 years. Classes are available throughout the year at any time. For additional information please visit,
www.certifiedcodertraining.com
.
Email L S Coding & Education LLC