Santa Barbara Restaurant Hosts Christmas Dinner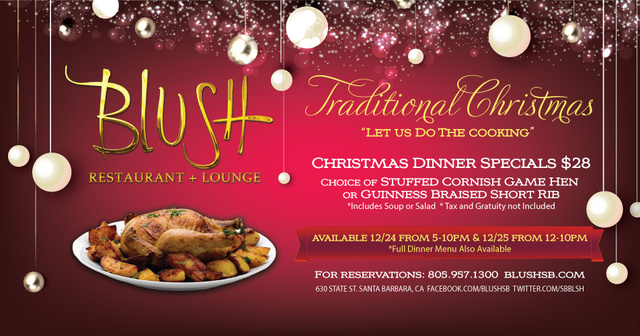 December 21, 2013, Santa Barbara, CA: Blush Restaurant + Lounge, in the heart of downtown Santa Barbara, knows that sometimes the best part of the holidays is spending time sitting around a table and sharing a meal with family and friends. That's why the local restaurant is pleased to announce that there is still time to make reservations for its
Santa Barbara Christmas Dinner
. Neighbors, friends, and visitors to Santa Barbara are invited to sit back and relax while the professional chefs at Blush do the cooking.
Blush is offering delectable Christmas Dinner Specials for only $28, plus tax and gratuity. Guests can soak up the atmosphere and chat while Chef Brandon Worrell and his staff present a Traditional Christmas meal of Stuffed Cornish Game Hen or Guinness Braised Short Rib, along with an appetizing soup or salad. The cozy restaurant and lounge will be open Tuesday, December 24 from 5-10pm and Wednesday, December 25 from 12-10pm. The restaurant's full dinner menu of fresh California cuisine will also be available, featuring slow-roasted salmon, pan-seared scallops, roasted white bass and braised lamb shank. After dinner, guests might be tempted to try a delectable offering from the full dessert menu such as Vanilla Bean Crème Brule or Chocolate Bread Pudding.
Almost as enjoyable as the food are the signature libations which Blush's mixologist will be creating. While relaxing in the restaurant's contemporary decor, guests might choose a Blush Margarita, Basil Fragola Martini, or a Barrel-Aged Manhattan to add just the right touch to the perfect Christmas meal. The main dining room is adorned in warm ambient lighting to provide an elegant, contemporary and chic backdrop for its guests' holiday dining pleasure.
"We want all of our guests to take their time and enjoy each other's company while our staff handles all the details," commented Asaf Dimant. "All too often one person or family is in charge of the holiday meal and ends up doing all the shopping, organizing, cooking, serving and cleaning up, without having any time to sit and be with their guests. We want to take away all that worry so our guests can enjoy their Christmas dinner as the together time it is meant to be."
Dimant urges diners in Santa Barbara to remember that there is never a bad time to wine down, and it's always the right time to blush! He suggests calling or making an online reservation now for a Blush Christmas celebration that everyone will enjoy.
About Blush Restaurant + Lounge:
Gayot's review reported, "Nightlife and fine dining collide at this hot-spot in downtown Santa Barbara." Blush Restaurant + Lounge is conveniently located at 630 State Street. Hours of operation are TUES-THU: 11:30A.M. - MIDNIGHT FRI 11:30A.M. - 2A.M. SAT 11:30A.M. - 2A.M. SUN 9A.M. - MIDNIGHT. If you're planning a holiday party, rehearsal dinner, or elegant wedding reception,
Visit the website
and
Facebook page
or call (805) 957-1300 for more information.
Email Blush Restaurant + Lounge