Anderson & Koch Ford Announces Special Sale Pricing for Extended Service Plans and ESP and PremiumCARE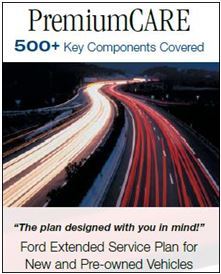 North Branch, MN – Anderson & Koch Ford, a trusted Ford vehicle and Ford extended service plan dealer, is now offering special, reduced pricing on Ford's extended service plans, including the comprehensive PremiumCARE plan. The extended service plans allow Ford owners to protect their investment and maximize the use and value of their new or used car or truck. Purchasing a Ford extended service plan ensures the vehicle lasts long and receives the proper care and maintenance.
The Ford PremiumCARE extended service plan is the most comprehensive of all warranty and Ford extended service plans, covering more than 500 key components of the vehicle. With the current special pricing on this top-tier plan, many Ford vehicle owners can benefit from the numerous benefits of protecting their vehicles. Ford vehicles are among the most reliable on the road; however, if there is a need for repairs, the low-cost genuine Ford extended service plan can pay for itself in as little as one repair.
As the leading extended service plan, the PremiumCARE plan covers ware-and-tear components as well as other elements not covered by most plans such as safety, audio, emissions, heating and air, and others. Drivers will also benefit from reimbursements for towing, rental cars and roadside assistance including flat tire change, battery jumpstarts, towing, lock-out assistance, out of fuel assistance, travel expense reimbursement and destination assistance.
To request special pricing for the PremiumCARE and other extended service plans from Anderson & Koch Ford, call 800-758-3673 or visit
http://www.andersonandkoch-ford-warranty.com/
.
About Anderson & Koch Ford Warranty
Anderson & Koch Ford Warranty offers only genuine Ford, Lincoln, and Mercury extended service plans (ESP). Get the protection and stability of the manufacture behind you. With a Ford ESP you will have continuous, uninterrupted factory coverage throughout your ownership experience. A Ford ESP is the only extended warranty guaranteed to be accepted at every Ford and Lincoln Mercury dealership in the United States and Canada.
Email Anderson & Koch Ford Warranty