Shepherd's Mill Brings Fresh Meals to Seniors in Their Homes Along With Valuable Daily Check-In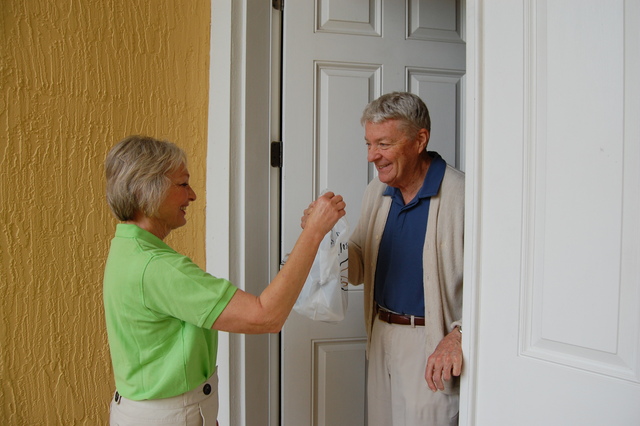 January 7, 2014 - Ponte Vedra Beach, Florida: An innovative combined meal delivery and daily check-in service targeting seniors that live alone has been launched in Northeast Florida with plans to expand nationwide. Co-founder Michele Evanger, a veteran in retailing and franchising, sees an untapped market to help families in need.
"My husband and I both have older parents living alone and we were concerned that there were multiple days at a time when they weren't seeing anyone. Additionally, shopping and cooking had become a chore, and we worried that they weren't getting enough nutritious meals to keep them active and healthy", says Evanger.
The Evanger's started searching for home delivery alternatives for their parents, two of whom live out of state. Other than government funded services targeting the needy, or assorted charitable organizations that provide limited availability, they discovered a lack of options. Combining that research with husband Jim's experience within the home health industry, Michele was inspired to take action.
"Shepherd's Mill is not just about meals", says Michele, "it's the peace of mind that an adult child can have knowing that their loved one is getting a delicious, nutritious meal delivered to their door each day by a caring Delivery Representative who will put eyes on the senior and electronically report any issues back to the adult child that need attention". She says that many seniors are also buying the meal delivery service for themselves, because the meals are so delicious and affordable.
Shepherd's Mill utilizes a dietician and professional chefs to ensure the meals meet the highest quality standards before adding meals to the menu. Meals can be purchased for either three or seven day packages per week and each meal includes dessert.
There are over 11 million seniors living alone within the United States, and the number is growing rapidly as 10,000 people turn 65 each day. Evanger plans on growing her local customer base within the Jacksonville area before expanding to other markets both within and outside of Florida. More information is available at
www.shepherdsmill.com
or via email at
info@shepherdsmill.com
For Inquiries: (904) 543-6067