Ylang Ylang Beach Resort's 25th Anniversary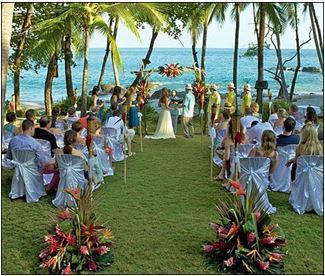 Montezuma, Costa Rica -
Ylang Ylang Beach Resort
is to celebrate 25 years of being the ultimate vacation destination in all of Montezuma beach in 2014. One of Costa Rica's first tropical resort on the beach, is celebrating their 25th anniversary with a bang. Since 1989, Ylang Ylang beach resort has made a huge impact on locals and tourist from all over the world who seek fun, adventure and romance all in one inclusive destination.
The beauty of Montezuma shines through its secluded harmonic atmosphere and Ylang Ylang resort sits right outside the small town making it a popular honeymoon spot. If the blue ocean hue and the beauty of the southern tip of the Nicoya Peninsula doesn't capture your senses, then we're sure our adventurous activities will certainly have your attention. There's something for everyone at Ylang Ylang beach resorts. We are happy to host your wedding on our sandy beaches and make sure to create the perfect ambiance for you and your guests to remember for a life time. Have an anniversary coming up? Let us cater to your needs and make your anniversary a memorable one. Our wedding department will happily coordinate your events and make sure you get nothing but tropical paradise.
Join us if you're looking for a romantic vacation getaway or a tropical beach vacation in Costa Rica with family. Ylang Ylang beach resort offers all inclusive vacation deals throughout the year. We have affordable wedding venues, packages for families and couples looking to travel to Costa Rica and desire a 5 star hotel experience. Ylang Ylang offers a spectacular view and all day fun activities for your enjoyment. Awaken your senses at our Spa and feel rejuvenated. Our treatments will heal both your mind and body. Ask about our relaxing spa packages which are inspired by the beauty and natural ingredients from Costa Rica. Our resort offers daily yoga with a beautiful ocean view as well as gift shops, lush gardens, a full restaurant and bar, including hammocks just about everywhere for your relaxation.
Our energy source comes from our solar panel garden which we use to power our guests hotel rooms. Here at Ylang Ylang resorts we believe in preserving the environment and helping to contribute to our planet's needs through a natural sustainable energy source. So next time you're with us, you will not only enjoy your stay because of the wonderful amenities and scenery but you will also feel good about it.
About:
The Ylang Ylang beach resort is located off the Nicoya Peninsula on the Pacific Coast. Situated in the beautiful Southeastern region of Costa Rica, Montezuma beach attracts tourist, honeymooners and families from all around the world who wish to capture the beauty and culture of Costa Rica. Ylang Ylang beach resort compliments its natural surroundings with a warm, tropical atmosphere. We work to provide all of our guests with the ultimate tropical and 5 star hotel experience. Ask about our vacation, wedding and honeymoon packages today. Visit out our website for more information:
www.ylangylangbeachresort.com
.
Email Ylang Ylang Beach Resort