Always Best Care's 93-Year-Old Client Donates 125 Handmade Blankets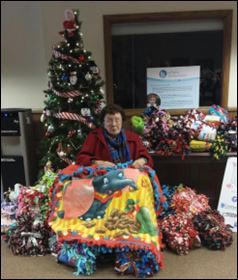 January 11, 2014 - Milwaukee, WI – What started as a project between two caregivers at Always Best Care Senior Services and their 93-year-old client (Eileen), turned into something much more rewarding than anyone involved could have imagined.
On Friday, Dec. 6th at 12:30pm, Eileen, along with her caregivers and the local owner of Always Best Care of Greater Milwaukee, Colleen Foley, visited Safe Babies Healthy Families (137 Wisconsin Avenue, Suite 200, Waukesha, WI) and presented 125 blankets to those in need.
"My client suffers from Alzheimer's disease and has around the clock in home care," explained Ms. Foley. "The caregivers are always looking for new and innovative activities to do with her because she loves to stay busy. With the help of Eileen's two Always Best Care caregivers, Betty and Sally, together they created 125 children's blankets and donated them to Safe Babies Healthy Families in Waukesha."
Eileen has been a client of Always Best Care for the past 18 months. In light of Eileen's Alzheimer's diagnosis, her family wanted her to have constant care, while at the same time allowing Eileen to remain in her home. Caregivers Betty and Sally have been with Eileen from the beginning. In addition to providing the necessary daily care, they keep her involved in a variety of activities. Creating the blankets has been a great project for Eileen – it has kept her busy, engaged and excited, with something to look forward to over the holidays.
What started out as a simple project, blossomed into an act of generosity. It sparked Eileen's daughter Patty to get involved, along with Betty's friend, Ed King. Together they all helped purchase the blanket materials in order to keep the momentum alive, enabling Eileen to create 125 unique blankets.
Safe Babies Healthy Families was selected as the recipients of the gift donations in response to its efforts to help children through the local region. Based in Waukesha, Safe Babies' primary focus is to break the cycle of child abuse, neglect and poverty in communities throughout Southeastern Wisconsin.
About Always Best Care
Founded in 1996, Always Best Care Senior Services has assisted over 25,000 seniors, representing a wide range of illnesses and personal needs. With 115 offices across the USA, Always Best Care combines national strength and standards with local accessibility and personal service. The President of Always Best Care of Greater Milwaukee is Colleen Foley, a life-long Wisconsin resident. Caregivers at Always Best Care of Greater Milwaukee are licensed, bonded and insured to provide the safest and highest level of care. There's no charge for an in-home care consultation or assisted living referral services. Visit
http://www.alwaysbestcare.com/us/wi/milwaukee/brookfield.aspx/.
By working with case managers, social workers, discharge planners, doctors, and families, Always Best Care provides affordable, comprehensive solutions that can be specifically matched to meet a client's particular physical or social needs. The hallmark services of the Always Best Care business portfolio include non-medical in-home care and assisted living finder and referral services, with skilled home health care now being phased in throughout the country. For more information, visit
www.alwaysbestcare.com
.
Always Best Care also offers Free ABC Rx cards, which provide discounts of up to 65 percent off the cost of prescription drugs at more than 56,000 pharmacies across the USA, and have saved consumers more than $400,000 since its inception. This service is offered at no cost to the users, there are no deductibles, no waiting periods, no pre-existing exclusions, and no eligibility requirements — everyone can use the card (even family members and pets!). The Free ABC Rx card covers many medications that Medicare Part D and regular insurance often do not. To download a free card, visit
http://www.freeabcrx.com/
.
Another exclusive program offered by Always Best Care is Always in Touch, a telephone reassurance program that provides a daily phone call to seniors and disabled adults who are living alone and have limited contact with the outside world. Always in Touch is the only absolutely free national telephone reassurance program of its kind anywhere in the USA and Canada. For more information on Always in Touch, or to request an application, visit
http://www.always-in-touch.com/
.