SeaGrass Grill offers Local, Fresh, Farm-to-Fork Menu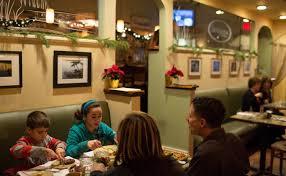 Branford, CT January 14, 2014 SeaGrass Grill is new to the Branford restaurant scene. Whether it's simply a ripe, red apple picked right from the tree, or a four-course meal prepared straight from the garden, you can taste the difference when it's fresh. That's why Sea Grass Grill is here to share the best picks in dining that offer fresh, local ingredients.
Kim Dziubinski, the owner of SeaGrass Grill in the Indian Neck neighborhood of Branford is making her mark on the local restaurant market. Her intention is to create flavorful, comfort food that is served in an unpretentious and relaxed environment.
Kim states "Let's put it this way, we don't have a freezer because everything will be made by hand, the way we look at is if we can't make it in our little kitchen it will not be served to our customers. Only the freshest ingredients are used."
SeaGrass has recently caught the attention of the New York Times. The New York Times article points out that Ms. Kim Dziubinski does a nice job of turning her limited pantry into inventive creations. Appetizers can be amazing. At one meal, we enjoyed delicious clams stuffed with an improbable mix of cubed polenta, butternut squash, spinach and herbs; another night, the clams were steamed and served in a tasty white-wine vegetable broth. Turkey soup was outstanding: thickened with potato and a bit of cream, full of over-sized chunks of turkey and sugar pumpkin, it tasted as rich as Thanksgiving gravy.
"Now I know this is nothing new and we are not creating the wheel, this is how our forefathers…and mothers lived; we are simply getting back to the basics. What we feel is a healthier way and we hope you agree." Kim stated.
SeaGrass Grill is located in Branford CT, open six days a week from Tuesday to Sunday, on historic Route 146, 3 Linden Ave, Branford, CT 06405, 203-315-3325.
Enjoy a great meal prepared with local farm fresh ingredients and then take a leisurely tour of historic RT 146. The 12.2-mile tour is along the shoreline towns of Branford and Guilford. Enjoy the cool, sea breezes as you pass salt ponds and scenic marshland. See dreamy summer cottages, magnificent beach front homes, and the popular Thimble Islands just offshore. For all the 'salty dogs' out there, this is one Connecticut road you won't want to miss.
Contact Info:
Email MOSAIC PRINTING, SIGNAGE AND MARKETING SERVICES