Go Mini's Offers Portable Moving, Storage Franchise Opportunities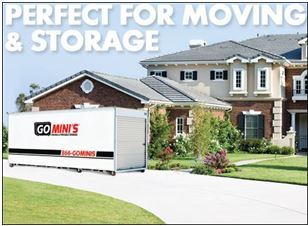 Go Mini's
, the expert in mobile storage containers, is offering entrepreneurs in small markets a valuable business opportunity. As a trusted portable storage and moving brand, Go Mini's fills an important niche in a market, by offering clients convenient and reliable moving and storage options. This is an excellent franchise opportunity for markets of 300,000 or more, as well as for small markets, when added to an existing self-storage operation.
Franchise owners will enjoy the backing of a national brand and will have access to various tools and resources, including intense training at the corporate training center located in Arden, North Carolina, as well as ongoing online software support and an extensive two weeks of onsite support, if needed – all designed to ensure that every Go Mini's business franchise is successful.
Go Mini's is among the top franchise opportunities in the industry, and this self-storage company has achieved a dominant international presence throughout North America. It is the only portable storage franchise operator to offer 20-foot storage containers, which have proved to be the most popular product in the industry. Go Mini's continuously provides the highest level of customer service satisfaction so that future Go Mini's partners can benefit from exciting brand recognition and loyalty.
To help potential new franchise owners make the most educated financial decision, Go Mini's offers entrepreneurs an opportunity to connect with existing franchise owners, and learn about the benefits and opportunities of owning a trusted portable and self-storage franchise.
About Go Mini's
When it comes to a stress free move, Go Mini's® is the company that offers the best possible portable moving and storage solutions, no matter what. Go Mini's® has a range of moving and storage containers that transform what you expected to be a real schlep into a total breeze. In fact, you can enjoy the luxury of watching someone else do the heavy lifting for you. Go Mini's® will ensure that there are no problems during the loading and unloading processes, so you can pretty much just relax and let this experienced team take care of it all for you. For more detail please visit,
www.gominis.com
.