Morphic Door Handle in Bronze to Debut HDEXPO 2014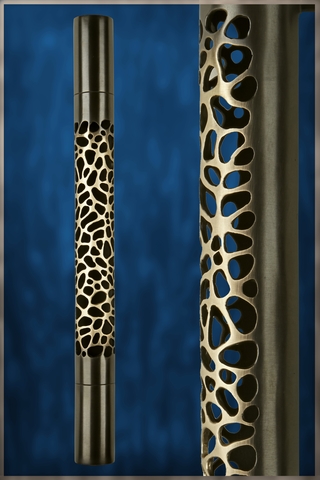 Cast in silicon bronze and made in the USA from a high percentage of recycled bronze this is the latest design in our innovative collection of door hardware. This new handle with its 1.5 diameter and 16" length fits the hand perfectly, it is easy to grip and visually stunning. For more durable high traffic areas we also offer this piece in 316 stainless steel, making it just as stunning but rust resistant so perfect for yachts and spas. The Morphic series is known for its fluid contemporary lines but when cast in bronze the series takes on an appearance reminiscent of the art nouveau style of Gaudi and Galle.
Martin Pierce designs and makes his work in Los Angeles his styles are original and copyrighted and now can be seen by Los Angeles designers and architects at his modest atelier. He is a trade only resource and he prides himself on creating architectural hardware for both residential and hospitality uses.