A.T.B Material Handling Now Offering Strategic Planning and Consulting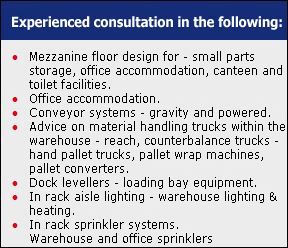 A.T.B. Material Handling
has added strategic planning and management services to its consultation offerings, giving factories and warehouses access to moving and inventory storage process planning. These services benefit those companies that need new solutions for their inventory management and logistics operations.
As companies prepare to move to another facility or rearrange their warehouse and storage space, accommodations need to be made for the type of materials being stored. A.T.B. Material Handling offers planning strategies that give companies a blueprint for how these transitions can be handled. This includes planning for mezzanine floors, on-site offices, and lighting. Warehouse and factory owners can take advantage of these services to create a seamless transition to a new floor and office layout that meets their business's changing needs.
The consultants at A.T.B. Material Handling understand the need for dock bays and levelers that make loading and unloading pallets of goods easier. They can create plans for these layouts, and they will also assist with advice on material handling equipment, conveyor systems, warehouse shelving, and sprinkler systems. Considerations for other necessities, such as restrooms and canteens can also be taken into account when creating these plans. A.T.B. Material Handling sells a wide range of equipment that can be incorporated into these designs. Warehouse owners can purchase warehouse shelving, pallet racks, and other critical equipment. The need for innovative solutions to improve inventory management and moving is more important than ever, and A.T.B.'s new strategic planning and management services are designed specifically for this purpose.
ABOUT A.T.B. Material Handling
A.T.B offers a wide range of products and services, from forklifts to used pallet racks, as well as consultation for creating workspace solutions that fit the needs of each customer. The consultants at A.T.B Material Handling are drawing upon years of service in the warehouse and storage industries to create custom planning and management solutions for today's warehouse needs. For more detail please visit,
www.atbmh.com
.
Email A.T.B. Material Handling