VTG Rail Leasing Open Topped Hoppers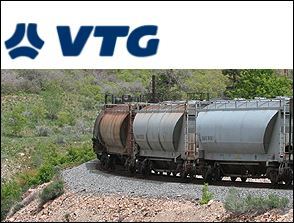 Edwardsville, IL - Railcar leasing experts
VTG Rail
are currently offering customizable leases on multiple types of open top hopper cars.
Hopper models available now include both 2700 and 4000 cubic foot cars, with the 4000 cu ft versions being either converted closed top hoppers that feature 6-gravity gates, or rapid-discharge cars manufactured by Ortner. Open top hoppers make the ideal equipment for transporting coal, ore, and other bulk materials that are not damaged by elemental exposure. Long the preferred railcar for automated cargo handling, VTG Rail helps get companies the open top hoppers that they need to efficiently and cost-effectively transport their goods.
VTG also has a variety of closed top hoppers and gondolas for sale and lease, as well as bulkhead flat cars, boxcars, and pressure differential hoppers. They offer both Net and Full Service leases, which can be customized to fit different lengths and payment structures. This allows operators to put equipment on the rails, immediately, to begin generating revenue while the financing for that equipment is handled progressively. VTG Rail also sells all of its equipment outright, if that is more useful for a given business.
To see all of VTG Rail's available rail car leasing, sales, and purchasing options, visit their website at
www.vtgrail.com
. To speak with a VTG representative directly, call their offices at (618) 343-0600 or (956) 630-2723, or visit in person at either their Edwardsville, Illinois or McAllen, Texas locations.
About VTG Rail
VTG Rail has been buying, selling, and leasing rail cars to companies in need for over 25 years. Their staff has decades of experience in the industry, and their Total Quality Management system helps implement their processes and procedures, ensuring that all customers receive the time, attention, and information that they need to make the right choices for their specific situation.