The Connection Announces a Range of New Call Center Services For 2014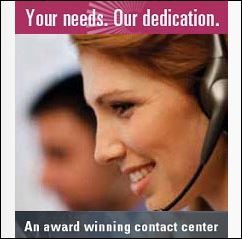 Burnsville, MN –
The Connection
, a leading US-based provider of call center services, announces new capabilities for 2014 to help clients maximize success and ensure seamless communication with customers. The Connection offers multichannel services, from phone, e-mail response and live chat, to IVR (interactive voice response) and social media functions, as well as sales, sales-leads generation, customer care, help desk and technical support services.
"We are always working to adapt to new communication technologies to deliver the most comprehensive contact center services and technology packages for our clients," said Fred Weiner, President and CEO of The Connection. "Customized dynamic voice and data technology offer our partners complete redundancy and enhanced security, ensuring their business stays online and data remains secure, 24/7, 365 days a year."
Whatever the call center service clients need, The Connection provides each client with a dedicated National Account Manager who is directly responsible for ensuring peak performance. These client representatives work proactively to maximize efficiencies and ensuring the services evolve to meet the needs of the business. Many leading organizations rely on The Connection for brand loyalty, retention, and enhanced customer satisfaction through a broad range of multichannel touch points.
About The Connection:
As an award-winning, US-based, outsourced contact center service provider, The Connection specializes in providing extensive sales, technical support, and customer service via inbound and outbound teleservices, live web chat, email response, social media monitoring, and interactive voice response (IVR) services. With multiple contact centers located throughout the United States, The Connection provides uninterrupted support. Since 1981, The Connection has specialized in contact center support for many industries, including wireless, telecom, cable, healthcare, broadband, pharmaceutical, financial services, insurance, government, tourism, internet retailers, crisis management, catalog, publishing, hospitals and clinics, health benefit exchanges, and product recall. To learn more about new multichannel call center services offered by The Connection, visit
www.the-connection.com
.