Sharper Cards Announces the "Keep Patients Coming Back" Promotion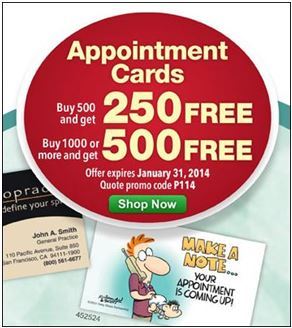 Calgary, AB –
Sharper Cards
, a leader in personalized marketing materials for medical offices, recently launched their "Keep Patients Coming Back" promotion, designed to help healthcare professionals secure repeat visits. Now through January 31, customers can purchase 500 appointment cards and receive 250 free, or order 1000 cards or more and get an additional 500 free. To receive the special offer, customers simply have to quote the promo code P114 when placing their order.
By sending each patient home with a pre-booked future appointment and a reminder card, medical professionals can make scheduling easy and reduce no-shows. Fun and colorful appointment cards from Sharper Cards are a great, cost efficient way to retain patients and ensure repeat business. The appointment cards can be personalized to show the office's logo and designs can be specific for various medical fields such as dentistry, veterinary, chiropractic, optometry and many other specialties.
"We're very excited to be starting the year off with this special promotion," said Victoria Waldie, Sharper Cards' Sale Center Manager. "Appointment cards are one of our most popular products, they provide our customers with the opportunity to not only remind patients about an appointment, but also distribute a uniquely branded marketing material at the same time.
Sharper Cards promotional materials are printed on high-quality stock and feature exclusive designs that you won't find anywhere else. With double-side printing, these appointment cards can also double as business cards that can be passed on to friends and family, helping you build a healthy patient-base through referrals.
To purchase custom appointment reminder cards and receive additional cards at no cost, visit
http://sharpercards.com/
or call 1-800-561-6677.
About Sharper Cards:
With over 28 years of experience designing marketing and communication solutions, Sharper Cards continues to grow and improve based on continual customer input. The company has built a loyal customer base of more than 40,000 individuals and businesses worldwide, based on its signature customer service guarantees of quick 2-day turnaround, free personalization, a Price Match Promise policy, and a 100% satisfaction guarantee. Moreover, with the recent launch of a brand new personalization editor on sharpercards.com, customers are now able to easily customize all of their marketing materials online.