Pacific Kitchens Now Offers Complimentary Kitchen Remodeling Consultations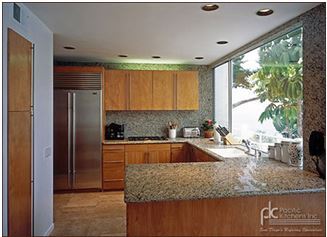 San Diego, CA –
Pacific Kitchens
, a trusted Southern California cabinet re-facing and kitchen remodeling company, now offers complimentary kitchen remodeling consultations to help clients create the kitchen of their dreams on virtually any budget. During the initial consultation, clients will meet with Pacific Kitchens' experienced designer to discuss their redesign goals, timeline and budget. Clients have many options when redesigning a kitchen, so it is important to speak with an experienced professional to maximize remodeling dollars.
During this complimentary consultation clients will learn about cabinet re-facing options — an affordable redesign choice for homeowners on a budget. The process typically takes three to four days and is inexpensive, compared to buying new kitchen cabinets. Pacific Kitchen's experienced craftsmen remove the exteriors of existing cabinets and cover them with quality materials, such as real wood or laminate. The result is a completely renewed kitchen, at a fraction of the cost.
A designer from Pacific Kitchens will bring samples of doors and countertop samples, as well as pictures of previous kitchen cabinet re-facing projects. Following the meeting, the re-design professional will take measurements of the kitchen and help select the best materials to achieve the desired look. At that time, Pacific Kitchen can provide an accurate estimate for the entire project.
There are no obligations, and this consultation is completely free, so clients can be confident they are making the best possible choices for their kitchen remodeling needs.
About Pacific Kitchens
Pacific Kitchens is San Diego's leading kitchen remodeling and refacing specialist. Pacific Kitchens has refaced and remodeled more kitchens than any other company in San Diego County. Pacific Kitchens provides their customers with high quality work from well-trained, experienced craftsmen who complete projects on time and within budget. To request a free kitchen redesign consultation, visit
www.pacifickitchens.com
.