Lear Capital Releases "The Retirement Survival Guide" – How a Golden IRA can preserve Wealth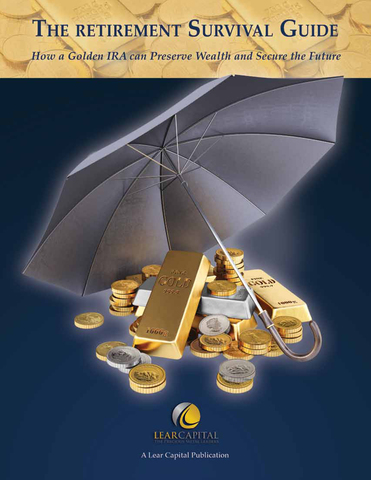 Lear Capital (
www.learcapital.com
) has released a comprehensive new investment report called "The Retirement Survival Guide – How a Golden IRA can Preserve Wealth and Secure the Future." The informative booklet grapples with the tough retirement questions that all of us must ask: Will I have enough money to ever stop working? Will I be able to maintain my current lifestyle? How long will my money last? What happens if the market crashes?
The number of baby boomers currently perched on the doorstep of retirement is staggering. Millions of Americans in their 40's, 50's and 60's whose parents enjoyed the security of plush pensions and rich benefit plans are suddenly realizing that this is not their parents' retirement program. The great baby boom may very well end in a fizzle as the current midlife generation has failed to save like their parents and grandparents and could be the first retirement casualties of dwindling employer-provided retirement benefits.
The new reality is that the "cradle to grave" safety net is gone. Employers can no longer afford to subsidize our retirement and unfortunately for those that have paid in for decades … Social Security is nearing insolvency.
In their newest publication, Lear Capital outlines a wealth preservation strategy for investors concerned about maintaining their comfort and quality of life throughout their later years. The report explores retirement opportunities in soft assets and hard assets, and charts the performance of physical metals versus the markets over the past decade. Since most experts consider a precious metals IRA account to be part a prudent diversification strategy, Lear offers insights into IRA eligible gold and silver coins as well as platinum and palladium options.
Now more than ever, we must tend to the task of retirement savings, investment protection and wealth preservation ourselves and Lear Capital's "Retirement Survival Guide" makes the case for why a precious metals backed IRA makes very good sense.
Lear Capital is considered the gold-standard for investors looking to add precious metals to their investment portfolio. Lear offers bullion (in the form of coins, bars and ingots), gold or silver-backed IRA's, numismatic and semi-numismatic coins for investment, diversification and retirement protection.
Lear Capital features quality precious metals products, superior service, and world-class customer care along with an array of exclusive special offers, price guarantees, and consumer-centric policies including: Limited and Exclusive Issue Coins, Full Purchase Transparency, A Buy-Back Program, the Lear Lock Price Assurance, and a 30-Day IRA Price Guarantee.
Lear Capital maintains an A+ rating with the Better Business Bureau and is a PCGS (Professional Coin Grading Service) Authorized Dealer. In addition, they abide by the NGC's (Numismatic Guaranty Corporation) coin grading Standard of Integrity, and support the ICTA (Industry Council for Tangible Assets) on issues of taxation, IRS regulations, and legislation that impacts all tangible assets.
The company can be reached at 1-800-576-9355 and "The Retirement Survival Guide – How a Golden IRA can Preserve Wealth and Secure the Future" can be downloaded from their website at:
www.learcapital.com