Go Truck Capital Adding "Resources" Page to Website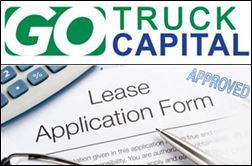 Tustin, CA - Commercial truck leasing experts
Go Truck Capital
are in the process of adding a new "Resources" page to their website.
The intent is for this page to be a customer access point that makes their truck leasing experience even easier. A temporary heading appears for the "Resources" page on right-hand informational column that appears on most pages, and soon that will take users to a help page that will allow users to locate pieces of equipment and provide other user-friendly functions. The equipment locator will allow customers to find semis, dump trucks, and other pieces of commercial equipment that meet their specific functionality, financing, and location needs.
Go Truck Capital's specialization is helping businesses put the vehicles that they need to operate effectively on the road immediately so that they can operate with maximum effectiveness. They offer a wide variety of trucks including tow trucks, delivery trucks, and equipment trucks available with customizable lease conditions that can be structured to accommodate the specific situation of any given client. Their lease conditions can be customized to fit different term lengths, different payment options, and can even be structured as lease-to-own agreements. They specialize in working with small and mid-sized businesses; however, they also have experience servicing the needs of companies of all sizes and industries.
To see the specific pieces of equipment currently available, read about the different leasing options, or to begin the leasing process, go to Go Truck Capital's website,
www.gotruckcapital.com
. You can also contact them via telephone at (855) 396-7415 or in person and through direct mail at 15137 Woodlawn Avenue, Tustin, California, 92780.
About Go Truck Capital
Go Truck Capital's business is helping other businesses get the equipment that they need in order to be profitable and successful. They have individual representatives for every account whose goal it is to understand the needs and goals of each unique client and to help them achieve those goals as quickly and efficiently as possible. Their approach is to establish a long-term business relationship that can grow and change along with the company. As a guiding philosophy, they believe in integrity and "Being committed to doing what we said we would do, when we said we would do it."