Go Truck Capital Hiring New Account Manager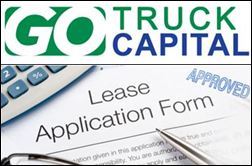 Tustin, CA - Semi and commercial truck leasing specialists
Go Truck Capital
have an opening for an Account Manager to join their sales team.
The ideal candidate for this position will possess at least 3-5 years of experience in the equipment financing or leasing industries, and will be motivated to advance in the company and have a passion for customer care. The job will feature specific training regarding the Go Truck Capital infrastructure, up to date CRM capabilities, lead generation, and back-end sales support. There is no earnings potential limit; however, specific pay and benefits will be negotiated based on the applicant's qualifications.
Go Truck Capital specializes in helping businesses get the vehicles they need on the road, as fast as possible, so that they can operate effectively and generate profits immediately. GTC offers a wide variety of trucks for lease, including tow trucks, delivery trucks, and equipment trucks, all available with customizable lease conditions that can be structured to accommodate the specific situation of any given client.
Their leases can be modified to fit different term lengths and payment options, and can also be structured as lease-to-own agreements. They specialize in working with small and mid-sized businesses; however, they also have experience servicing the needs of companies of all sizes and industries.
To begin the application process or to learn more about Go Truck Capital, visit their website at
www.gotruckcapital.com
. You can also contact them via telephone at (855) 396-7415 or in person and through direct mail at 15137 Woodlawn Avenue, Tustin, California, 92780.
About Go Truck Capital
Go Truck Capital's business is helping other businesses get the equipment that they need in order to be profitable and successful. They have an individual representative for every account whose task is to understand the needs and goals of each unique client, and to help them achieve those goals as quickly and efficiently as possible. Their approach is to establish a long-term business relationship that can grow and change along with the company. As a guiding philosophy, they believe in integrity and in "being committed to doing what we said we would do, when we said we would do it."