Everything But The Kitchen Sink: Berger Unloads at Habitat For Humanity ReStore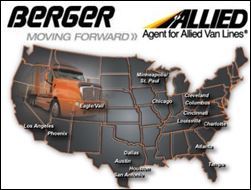 Fort Worth, Texas - Donations coming in various shapes, sizes, and values are gladly accepted by nonprofit organizations like Habitat for Humanity on a daily basis. Throughout the years, the infrequent unbelievable donations flourished to the point of frequently conceivable awards and grants. However, last December, all conceivability was thrown out of Fort Worth's Habitat for Humanity's ReStore window when Frances Manning, ReStore's Materials Acquisition Manager, answered her office phone. "It was shocking," she said. "28 bathtubs and shower walls, 17 bathroom sink countertops, 10 kitchen countertops, and 50 pieces of wall artwork; you know, everything but the kitchen sink. That doesn't happen every day."
After successfully completing a hotel project during the holiday season with FASTRANS Logistics, David Scott, the manager of storage distribution at Berger Transfer & Storage's Dallas location, was left with an abundance of surplus product and a simple direction; discard the excess materials. This was a blasphemous instruction, he thought. Instead of following suit and disposing of the inventory at a landfill, a commonly used practice by vendors, Scott decided to explore his options. "I saw a blurb about them [Habitat for Humanity ReStore] in the newspaper and figured I needed to get with them." And he did. A decision welcomed and received with open arms by Manning and Fort Worth's Habitat for Humanity ReStore. "It was completely appreciated," stated Manning. "It is great when commercial people step-up and contribute. We're trying to get more vendors and commercial companies to think like David. You'd be surprised how much is wasted."
Habitat for Humanity ReStore is a nonprofit home improvement store and donation center that sells new and gently used furniture, home accessories, building materials, and appliances to the public at a fraction of the retail price. Habitat for Humanity ReStores are proudly owned and operated by local Habitat for Humanity affiliates, and proceeds are used to build homes, communities, and hope locally and around the world.
Scott's call was the catalyst for more than just a donation drop-off. In fact, it proved to incite Manning to think of a new acquisitions channel for Habitat for Humanity ReStore. "To me, it was a great thing to receive a call from that sector of business," she said. "It showed me another category of our business. It gives me more people to call. Usually, you think of building supplies, furniture stores, etc., but a company like Berger I normally would not have called." Now, whether or not Scott's motive for this donation included establishing new business relationships isn't important. Instead, the importance lies in the plain fact that his actions did establish a new pipeline of business and communications.
It goes without saying that Berger Transfer & Storage supports Scott's initiative to donate to the Fort Worth community. Scott exemplifies a great lesson that one phone call can, indeed, change a life. And perhaps Scott's greatest lesson is found in his simple statement; "It just felt good to be able to help."
About Berger Transfer & Storage, Inc.
Berger Transfer & Storage, a worldwide mover who celebrated a century of service in 2010, was established in 1910 and is headquartered in Saint Paul, Minnesota. Berger is an experienced leader in household goods and specialized transportation services. With 15 locations nationwide, Berger is Allied Van Lines' largest asset based agent and provides relocation and transportation services to residents, corporations and government agencies around the world. Berger has offices in the following markets: Atlanta, Austin, Charlotte, Chicago, Cincinnati, Cleveland, Columbus, Dallas, Houston, Los Angeles, Louisville, Phoenix, Saint Paul, San Antonio, and Tampa. For more information about Berger Transfer & Storage, please visit
www.bergerallied.com
.
Email Berger Transfer & Storage, Inc.