Chrysler Trenton Engine Complex Places First Torrent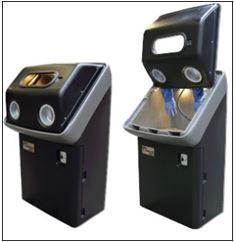 Dallas, TX - Chrysler's engine manufacturing plant in Trenton, Michigan has installed a Torrent aqueous parts washer to help streamline their cleaning processes.
The Trenton plant will be using the Torrent washer as a vital piece in their system for manufacturing Pentastar engines. The 3.6-liter, V-6 Pentastar engine is used in a number of Chrysler, Dodge, and Jeep vehicles and is considered the most advanced V-6 in Chrysler's history. The Trenton South Engine Plant is also one of only four auto manufacturing facilities in the world to receive a LEED Gold Green Building System certification thanks to their commitment to environmentally responsible practices, and the Torrent will help them continue to operate with maximum ecological efficiency. The Torrent, a Partsmaster product, is a high-volume, high-efficiency parts cleaner that doesn't require harsh chemicals for its cleaning process but relies instead on simple heat, pressure, and water to meet and exceed industrial cleaning standards.
In addition to the automotive industry, the Torrent has been effective in reducing costs and increasing productivity in a wide variety of industries including the aerospace, railway, manufacturing, and material handling fields, amongst others. The Partsmaster Torrent complies with all OSHA standards, helps achieve ISO 14001 goals and objectives, and is frequently used to replace many older-model, less efficient washers as users realize their broad-spectrum applicability and bottom line impact.
To learn more about the Torrent, or to send a message to Partsmaster, visit
www.PartsmasterTorrent.com
. You can also speak to a Partsmaster representative directly by calling (800) 336-0450, or view more online content on their YouTube, Facebook, Google+, or Twitter pages.
About Partsmaster
Partsmaster is designer, manufacturer, and distributor of items and equipment for the Maintenance, Repair, and Operations industry. Founded in 1968, Partsmaster has spent 45 years creating intelligent solutions for the real-world problems of MRO companies. They are a division of NCH Corporation, and in addition to the Torrent, their brands include Cryotool, Dyna Systems, Mega Metal, Trust-X, and X-Ergon. They are members of the United Inventors Association and are committed to innovation in all of their products and practices.