Ithaca Sports the Only Company to Carry Glidewear Prosthetic Patches Online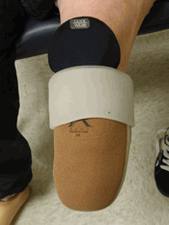 For those who wear prosthetics
, the irritation and breakdown of skin that comes from the friction between the skin and the prosthetic is one of the biggest problems encountered. Glidewear prosthetic liner patches form a protective liner between the residual limb and the prosthetic liner, sock, or socket to make wearing the prosthetic more comfortable and prevent potential damage and infection. Ithaca Sports is the only online resource for purchasing Glidewear prosthetic liner patches which are available in 2 sizes to provide targeted shear and friction protection and reduce irritation to skin.
The technology used in Glidewear is a patented low-friction design that has been used for years to provide protection between skin and clothing, footwear, orthotic, prosthetic devices, wheelchair seating, and mattress covers. It is the first opportunity to use this product specifically for transtibial amputees. To use the patch, wearers simply place the patch over the area of concern. The interface material conforms to bony contours without compromising the fit of the liner and socket. Glidewear patches come in packages of 2 and are available in sizes of small and large to fit a variety of needs.
Ithaca Sports is the only company that offers Glidewear patches on line, along with a wide range of sports medicine and first aid supplies. In addition, options like free shipping, Suggest a Product, and international shipping to more than 150 countries make it more convenient to find and order the variety of products you need from one website. Shop according to your injury, brand or sport, or choose from a wide variety of categories to find exactly the product you are looking for.
If you would like to have more information about Glidewear prosthetic patches or to ask about sports medicine supplies not listed here, please call 800.716.9382.
Bio:
IthacaSports.com is dedicated to providing the best sports medicine products on the market. Most items ship for free and new items are continually added to their inventory. Their products include the items needed to keep athletes safe and pain-free. Their inventory includes what is needed for the professional or amateur player to stay safe while they play and to recover faster. For more detail please visit,
www.ithacasports.com
.