Go Mini's Provides a Simple and Cost-Effective Option for Local Moves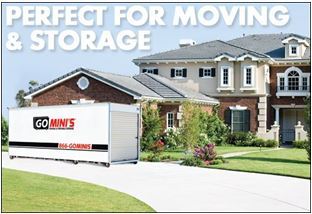 Go Mini's
, the expert in mobile storage containers, offer clients an easy and convenient way relocate without the expense and hassle of hiring a moving company. For local moves, many people prefer to do it themselves rather than hiring movers. To make this process more convenient, Go Mini's offers clients a full range of moving and storage tools, including portable storage and moving containers.
The moving and storage solutions offered by Go Mini's are affordable and reliable. Renting a mobile storage container gives clients the flexibility to load and unload the container at their leisure and allows constant access to good and belongings. The containers can be stored at one of Go Mini's secure storage location or on the client's property. The storage and moving containers are specifically designed to keep all personal property secure and away from the elements.
There is no need to disassemble desks, tables, chairs or work stations to move or store – it's easy to load furniture assembled into a Go Mini at ground level moving and storage containers for instant set up at the new location. Owners can secure all items in the Go Mini storage and moving container by strapping to the convenient tie down railings throughout the portable moving and storage unit.
Go Mini's is a one-stop-shop for all local moving and storage needs, including supplies, containers, movers, and more. With more than 200 convenient locations in the United States, Canada, and Mexico there is a Go Mini's facility nearby to help with local relocations.
To secure a portable moving and storage container for local relocations, visit
www.gominis.com
.
About Go Mini's
When it comes to a stress free move, Go Mini's® is the company that offers the best possible portable moving and storage solutions, no matter what. Go Mini's® has a range of moving and storage containers that transform what you expected to be a real schlep into a total breeze. In fact, you can even enjoy the luxury of watching someone else do the heavy lifting for you. Go Mini's® will ensure that there are no problems during the loading and unloading processes, so you can pretty much just relax and let this experienced team take care of it all for you.