JIEC and Mawdoo3.com signed agreement to enrich digital content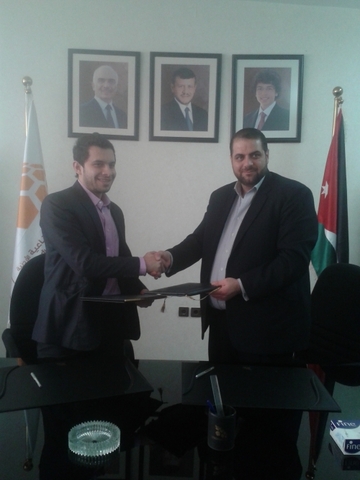 January 23, 2014 - The Jordanian Industrial Estates Corporation (JIEC) and
Mawdoo3.com
moved to strengthen their relations and signed an Agreement for future cooperation and collaboration, with the aim of enriching the Arabic content on the Web across the Middle East. The agreement was signed by Dr. Louay Suhwail the CEO of (JIEC) and Dr. Mohammad Al Tawafsheh the general director of Mawdoo3 company the owner of the Arabic website mawdoo3
http://mawdoo3.com/
.
Upon signing the document Dr Suhwail said "the agreement came within the context of the JIEC's support of emerging companies in the Kingdom which are looking to position themselves in the global electronic arenas using Arabic language".
Noting that the agreement will allow the two companies to activate their cooperation for the development of Arabic e-content, providing the best models for social responsibility of national institutions towards start-ups in general and in the field of information technology in particular. This agreement enables JIEC to promote their news, activities and achievements through Mawdoo3.com in addition to their plans for the future, which contributes to promoting the Jordanian investment environment and reach the largest number of people interested in investing in Jordan via e-content.
For his part, Dr Al Tawafsheh explained that through this agreement Mawdoo3.com will provide the JIEC marketing campaigns promoting their website, achievements and future plans, to enrich the Arabic content through JIEC's investment related articles.
Dr. Tawafsheh characterized the agreement as "a major step forward" in the goals of his institution to establish a framework for cooperation mechanisms between the two organizations in order to strengthen e-Arabic content and promote the Jordanian investment opportunities to the Middle East, highlighting partnership, inclusion, and sustainability.
It is noteworthy that Mawdoo3 is a leading company in the field of e-Arabic content development, which was founded in 2011, working to enrich the Arabic content on the Web through its webpage "
http://mawdoo3.com/
" which is one of the early leading Arabic content websites, Mawdoo3 won first place in the contest Queen Rania national Entrepreneurship - academic track - in 2011 for developing a Web site based on the innovative algorithm that studies Arabic content on the search engines.
The company has taken concrete steps in its field during a relatively short time since the site has achieved millions of hits monthly from all Arab countries, and thereby became a key reference site for Arabic content on the Web in the Arab world.