Go Truck Capital Helps Equipment Dealers Offer Financing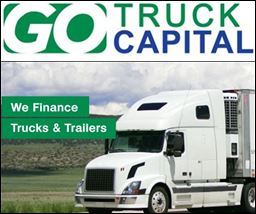 TUSTIN, CA - For those businesses that are primarily engaged in selling capital equipment to other companies, commercial truck financing specialists
Go Truck Capital
can be a helpful partner in setting up a commercial finance program.
Go Truck Capital is now assisting companies that have sales orders of at least $5,000 to establish their own systems, allowing them to provide their customers with the equipment that they need at reasonable rates. Establishing a commercial finance program also helps expand a business's customer base, and increases order sizes and sales overall. GTC works with their client's sales team in order to help develop a product that can be seamlessly integrated with existing workflow procedures and which fits the specific needs of each unique company.
Go Truck Capital is a commercial truck leasing business specializing in helping their companies get the vehicles they need on the road as fast as possible, so that they can begin generating profits immediately. GTC offers a wide variety of trucks and trailers for lease, including tow trucks, delivery trucks, and equipment trucks, all available with customizable lease conditions that can be structured to accommodate the specific situation of any given client. Their leases can be modified to fit different term lengths and payment options, and can even be structured as lease-to-own agreements. They specialize in working with small and mid-sized businesses; however, they also have experience servicing the needs of companies of all sizes and in all types of industries.
To speak with a GTC representative about establishing a commercial financing program for your business, or to learn more about Go Truck Capital's products and services, visit their website at
www.gotruckcapital.com
. You can also contact them via telephone at (855) 396-7415, or in person and through direct mail at 15137 Woodlawn Avenue, Tustin, California, 92780.
About Go Truck Capital
Go Truck Capital's business is helping other businesses get the equipment that they need in order to be profitable and successful. They have individual representatives for every account whose goal it is to understand the needs and ultimate business desires of each unique client, and to help them achieve those goals as quickly and efficiently as possible. Their approach is to establish a long-term business relationship that can grow and change along with the company. As a guiding philosophy they believe in integrity and in "Being committed to doing what we said we would do, when we said we would do it."