Torrent Celebrates 2013, Looking Forward to 2014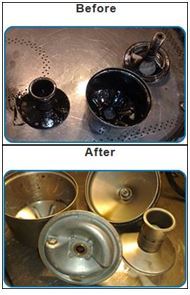 DALLAS, TX - January 23, 2014 – As 2013 comes to a close, industrial parts washers manufacturer Torrent and their parent company
Partsmaster
would like to reflect upon all of their achievements from the last year and look forward to everything that is coming in 2014.
This year many new clients decided to make the switch to aqueous parts washers including an electric motor shop, an oil field fleet service, railroad DSL shop, aviation brake and wheel repair shop, heavy equipment shop, and a well servicing company. All of these businesses will save thousands of dollars a year thanks to the efficiency of the Torrent, with the well servicing company estimated to save over $100,000/yr and the railroad DSL shop estimated to save an astonishing $600,000/yr. "In 2013 we set the stage and look forward to a solid 2014 supporting our current customers and growing accounts to help more companies save money, time, and the environment with aqueous parts washing," said Curt Selby, Marketing Director.
In addition to those industries already mentioned, the Torrent has been effective in reducing costs and increasing productivity in the aerospace, manufacturing, and material handling fields, amongst others. The Partsmaster Torrent complies with all OSHA standards, helps achieve ISO 14001 goals and objectives, and is frequently used to replace many older-model, less efficient washers as users realize their broad-spectrum applicability and bottom line impact.
To learn more about the Torrent, or to send a message to Partsmaster, visit the website. You can also speak to a Partsmaster representative directly by calling (800) 336-0450, or view more online content on their YouTube, Facebook, Google+, or Twitter pages.
About Partsmaster
Partsmaster, a premier MRO solutions company dedicated to making its customers' work easier, was established in 1968 as a division of NCH Corporation, a leading provider of industrial goods since 1919. Partsmaster offers intelligent solutions that solve the problem. Our exclusive brands include products you cannot get anywhere else. The Partsmaster brands include Cryotool® cutting tools; Dyna Systems® fastener line; Mega Metal® polymer repair compounds; Trust-X® high productivity abrasives; X-Ergon® welding products; and Partsmaster Services. Combined with our sales and service commitment, Partsmaster is your knowledgeable, strategic partner that understands your business, needs and always takes care of you. For more information, visit
http://www.partsmastertorrent.com/
or follow them on Facebook, Twitter, Google+ or YouTube. Partsmaster™ makes your work easier!