Boulder Therapist Writes a Brilliant Book on Brilliant Relationships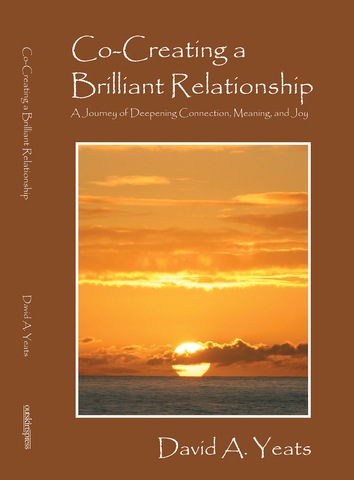 Boulder Colorado, January 28, 2014 – In his first non-fiction book, longtime psychotherapist David Yeats convincingly proposes a new, no-nonsense paradigm for living and for relationship-one that is oriented to an idea of creative and compassionate adult growth beyond the culture's current awareness, and based in deliberately designing a relationship of, deep connection, meaning, and joy via game-altering insights, strategies, intentions, and behaviors.
"Co-Creating a Brilliant Relationship: A Journey of Deepening Connection, Meaning, and Joy," just published by Outskirts Press, is a synthesis of the work the author has been involved with as a psychotherapist and clinician, teacher, program director, inn owner, spouse, and parent over the course of his life. The focal point and common denominator of that work, he found, is simply in the relationships we form as humans. Yeats recognized that our culture has lots of poor ways of relating, but not many models for healthy, joyful, thriving relationships. Passionate about his work with clients and humbled by their courageous personal work, he was able to cull from their wisdom a set of strategies, tools, attitudes and other means for people in any kind of relationship to co-create something more skillful—even brilliant.
Yeats describes stages of partner relationship, and, he points out, any relationship can only be as good as the relationship we have with our own self, something not widely recognized in our society. He describes a variety of effective, creative stratagems and skillful means for bettering both one's relationships with others and with one's self—and so the book appeals to both couples and singles. The underlying, pervasive dynamic—a requirement that autonomy and connection be balanced in all relationships—is described in his capable narrative style and further revealed in sensitive and compelling vignettes taken from Yeats' own life as well as from his sessions with his clients. Largely as a result of Yeats' own personal work and experiences, and his intimate work with clients, this book is an intuitive, specific, and deliberate guide for those who want to have deeper, more compassionate and more creative relationships in their lives.
Yeats' qualifications, in addition to what he has learned in his own relationship and all the relationships in his life, along with his personal engagement with hundreds of couples, reside in his lifelong curiosity and commitment to finding successful and pragmatic means and methods for rewriting the dysfunctional relationship scripts so prominent in our culture. His understanding of the ways we humans develop—in terms of values, sense of self, and meaning—richly informs him about the continuing possibilities for human growth, as a map can inform us of where we may wish to go next. And the result, he says, as captured in his book, is deepening connection, meaning, and joy.
"A lot of this material is brand new and very clever" says one reviewer, "… a great job of leading the reader through a lot of personal growth — both emotionally and spiritually.… Anyone seeking to improve their relationships, or even just to deepen their own personal growth as an individual, will benefit from reading this caring and inspiring book."
David Yeats LCSW has been a practicing psychotherapist for almost 30 years. He has taught at all levels, and given local and national workshops to professionals and lay folks alike. Additionally, he co-founded the Boulder Men's Center. David lived in Hawaii for 4 years and owned a bed and breakfast inn, Aloha Breeze, while directing DecisionPoint Alternatives to Violence Treatment Program and the Ohana Visitation Center. His primary focus in his Boulder Colorado practice now is couples work and work with individuals around their relationships. See
www.StillPointPsychotherapy.com
for further information.
If you would like to receive a copy of "Co-Creating a Brilliant Relationship" for review, or to interview David Yeats, please visit
www.brilliantrelationship.com
or contact:
David A. Yeats
dayeatsmsw@hotmail.com
http://www.outskirtspress.com/CoCreatingaBrilliantRelationship/
http://www.davidayeats.com/
Email Stillpoint Psychotherapy