Focus Rooms Highlights the Importance of Year-end Functions for Employees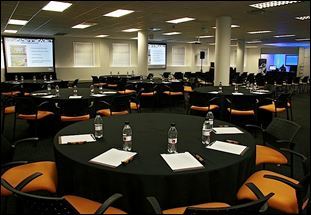 Johannesburg, South Africa – An end of year function can do a lot for a company and nobody knows this better than Focus Rooms (the stylish and modern conference and events venue provider who have hosted many of these get-togethers over the years).
Focus Rooms have stated that companies stand to gain a lot from hosting end of year functions for their employees. Although a lot of companies do host these events, they are usually for clients and not employees. However, it's very important for companies to make their most valuable asset (their workforce) feel special – and it's never a bad idea to host an event for both clients and employees. Chances are, good relationships will be formed or strengthened and that will ultimately lead to better business.
What employers stand to gain by hosting end of year functions for their employees is to learn more about them outside of the work environment. This, of course, gives them a deeper understanding of the different personality types they are working with. With this knowledge, employers will have a better idea on how each employee needs to be handled to ensure better productivity.
People are also generally more open at these events than at the office. This simply means that end of year events provide a fertile environment to talk about ideas, give feedback and make suggestions. Since everyone is in a relaxed space discussions are more inclined to invite honest opinions.
According to Focus Rooms, another fact that often gets overlooked is that these functions are not only a good way for employers to tell their employees that they appreciate all the hard work they've put in, but if these functions are announced a month or two in advance they can also serve as a great motivator to achieve set goals.
Focus Rooms' events venues can easily handle anything from 4 to 500 people. This is definitely a service provider to consider for a company's end of year function. They clearly have an in-depth understanding of the importance of these types of events and, on-top of that, their facilities are state-of-the art.
About Focus Rooms
Focus Rooms is an extraordinary conference venue in the heart of Sunninghill
, Johannesburg North. As one of the leading venues in Johannesburg, they are known for hosting extraordinary functions, conferences and team building events. With a special focus on creating unique and innovative events they have established a reputation for providing exceptional services. Focus Rooms is located close to the business hubs of the city and has partnered with near-by establishments providing first-class accommodation. For more detail please visit,
www.focusrooms.co.za
.