Beyond Breakeven, Inc. Wins Tampa Awards Recognition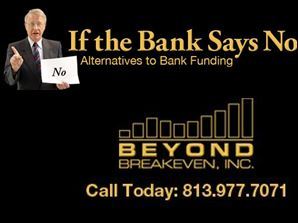 January 29, 2014 - Beyond Breakeven, Inc. was recently honored with the 2013 Best of Tampa Award in the program's business consulting classification, recognizing the value Beyond Breakeven, Inc. provides its clients in business valuation, business planning and business financing, among other services.
Beyond Breakeven, Inc. helps not only local businesses but also individuals nationwide to not only secure the funding they need but also assists in identifying problem areas and equipping owners with the tools to improve productivity and profitability. The company takes a holistic approach to business planning, examining in detail all the parts of a business to determine a game plan to improve the whole.
Unlike many consultants who perform their work in isolation, Beyond Breakeven, Inc. includes clients in the process, teaching and mentoring them in tested and proven business planning strategies. This allows clients to take a more active role in the improvement of their business and gives them the tools for future growth and innovation. This approach to business consulting is unique and illustrates why Beyond Breakeven, Inc. was honored by the prestigious Tampa Awards Program.
The Tampa Awards Program recognized the very best local businesses in the Tampa area. The program recognizes Tampa businesses in a variety of categories, providing them with thanks and acknowledgement for their contributions to the local and national economy. The awards typically exemplify the very best of local small businesses in their various fields of expertise. The program works with a variety of businesses, trade groups, professional associations and other groups.
About Beyond Breakeven, Inc.
Beyond Breakeven, Inc. is a Florida-based business-consulting firm that assists entrepreneurs in developing business plans, finding financing and optimizing their operations. The firm can provide more tools and programs to help optimize income and profitability and in most instances can provide more than 100% of the funding for business start ups or acquisitions. To learn more, visit
www.ifthebanksaysno.com
.
Email Beyond Breakeven, Inc.