New Tukkie Student Plants a Lavender Tree at Annual Tree Planting Ceremony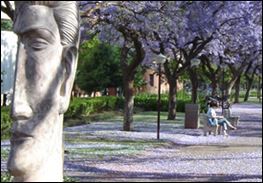 January 31, 2014 - Pretoria, South Africa – On 18 January 2014, the
TuksAlumni Office at the University of Pretoria
hosted their annual tree planting ceremony on the Hatfield campus during the University's Welcoming Day for first-year students.
Three Lavender trees were planted by a first-year student, Ms Fallon Fourie, the Vice-Chancellor and Principal, Prof Cheryl de la Rey and Mr Willie Spies, Chairperson of the TuksAlumni Board. Ms Fourie will be studying for the degree BEng (Chemical Engineering) at UP.
This custom to plant a tree during Welcoming Day on behalf of the class of the respective year originated in 2001. The first-year student represents the year group while the tree stands as a symbol of this group who will become alumni themselves in years to come.
Trees planted since 2001 include the River Bush Willow, the Cheesewood, the Red Currant, the Mountain Seringa, the Baobab, a Wild Pomegranate, a Common Wild Currant, a Bladder-nut, a Tree Fuchsia, a Common Rothmannia, a Jacket Plum, a Red beech tree and a Crossberry. Past students who, as new first-year students, took part in this ceremony were the late Rizqa Carrim (2001); Christa-Louié van Heerden (2002); Ingeborg Steinmann (2003); Tshepo Moila (2004), Dewald de Beer (2005), Atli Phatudi (2006), Jaco Jordaan (2007), Molatelo Thebe (2008), Tarryn Thomas (2009), Nkamogeleng Mahlaela (2010), Urooge Haq (2011), Liesl van Eeden (2012) and Tshiamo Maimane (2013).
About
UP is the leading research university in South Africa and one of the largest in the country. The university has seven campuses as well as a number of other sites of operation, such as the Pretoria Academic Hospital. Central administration is located at the Hatfield Campus. The University of Pretoria offers more than 1,800 academic programmes in two of the official languages, namely Afrikaans and English. (Some programmes and modules are offered only in English.)
In 1996, the University of Pretoria became the university with the highest research output in South Africa and we have maintained this status. The University of Pretoria celebrated its Centenary in 2008. The academic programmes of the university are offered in nine faculties, as well as a business school. The faculties comprise a total of 140 departments and 85 centres, institutes and bureaus. UP is at the forefront of tertiary education in the country and collaborates with world-class partners to ensure continued excellence in learning and teaching. For more information visit:
http://web.up.ac.za/
.
Email University of Pretoria