MiWay calls for Car Insurance to be made Compulsory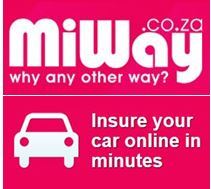 Johannesburg, South Africa – The insurance provider,
MiWay, has voiced that car insurance for vehicle owners should be made compulsory
.
South Africa remains one of the few countries where it is legal to own a car without comprehensive car insurance. According to a recent AA study, 65% of all South African vehicle owners do not have car insurance of any kind. This is an alarming figure when compared to the number of accidents that take place - studies revealed that there are nearly a million vehicle accidents a year in this country.
A car is a considerable investment and for most second only to a house. Without insurance, vehicle owners risk losing this investment via vehicle theft or detrimental accidents.
MiWay has noted that these are difficult economic times and many people do not have car insurance because they believe they cannot afford the additional monthly payment. As a result, the car insurance company has structured affordable car insurance plans for South Africans.
MiWay supports efforts to make third-party damage insurance compulsory for all vehicles using SA roads. Currently a lot of insured road users are paying for their own repairs even when they didn't cause the accident. This is the case because the guilty party is often uninsured and cannot afford to pay.
There have been several discussions with government on this matter, but MiWay estimates that it will take some time before the necessary change is implemented. Until then, the insurance provider suggests people should start seeing car insurance as a moral obligation. As a way to ensure that they are capable of taking responsibility for their actions in case they are the cause of an accident.
About MiWay
MiWay is one of South Africa's leading direct, short-term insurance companies
. Our business objective is to give our customers great value-for-money insurance products and offer a comprehensive range of short-term insurance products including car insurance, household and homeowners insurance and add-on products like motor warranties and liability cover. MiWay also offers motorcycle insurance and bicycle insurance.
We offer flexible, innovative and affordable insurance that suits the client's pocket and gives peace of mind. MiWay also rewards clients with a one-of-a-kind loyalty programme called MiRewards. MiRewards is a cash reward paid directly into the bank account of our clients and is given to all clients that have been insured with us for at least 3 years – regardless of whether they have claimed or not.
With a staff complement of over 1000 people, we are committed to providing superb customer service and are transparent in all our dealings with our clients. MiWay has also been voted the best company to work in the 2012 Deloitte Survey.
MiWay offers complete home and car insurance quotes online, the ability to earn rewards and save on joining fees by buying car insurance policy online. We also offer self-management of the insurance portfolio without ever having to fill out a form or calling us as well as 24/7/365 lodging and tracking of claims. Contact MiWay or call us directly on (+27) 860 64 64 64.
Email MiWay Insurance Limited