Eastern Dentists Insurance Company Signs Exclusive Agreement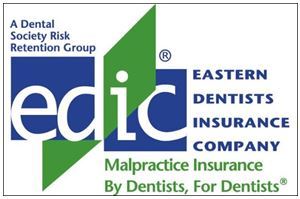 Westborough, MA -
Eastern Dentists Insurance Company
(EDIC), a trusted dental liability insurance company, has negotiated an exclusive agreement with Medical Security to provide dental professional liability insurance in North Carolina. EDIC will serve as the company's exclusive agent in the state, offering dental professionals complete business protection, as well as personal financial advice, insurance and planning, and enhanced value-added benefits.
"We are proud to announce our exclusive agreement with Medical Security, and that we will be entering the North Carolina market as the premier dental liability insurance providers," said Charles Hapcook, DDS, President and CEO of EDIC. "EDIC will continue to offer comprehensive coverage and premium rates on existing insurance policies, but, in addition, doctors will enjoy added benefits from our 'by-dentists-for-dentists' company."
This agreement was made after careful consideration regarding the current insurance market and with input from North Carolina dentists and the North Carolina Dental Society. EDIC will bring one of the largest dental professional liability companies on the East Coast and provide broad coverage, aggressive claims defense, competitive pricing, and innovative risk management services to dentists in North Carolina. In addition, EDIC has agreed to designate a North Carolina dentist to serve on its Board of Directors.
For more information about this agreement, or to inquire about dental liability insurance in North Carolina, visit
http://www.edic.com/
, contact EDIC at 508-836-4204, or send an email
About Eastern Dentists Insurance Company
Founded in 1992 by the Dental Society of Massachusetts, as a "by dentists, for dentists,®" company, Eastern Dentists Insurance Company (EDIC) has grown to thousands of members in Massachusetts, Rhode Island, Connecticut, New Hampshire, Vermont, Maine, New Jersey, New York and Pennsylvania. The company was expressly formed to control the rising costs of dental malpractice insurance and to allow our colleagues to control their own destinies.
Email Eastern Dentists Insurance Company