Best Super Bowl Party In Santa Barbara – Pre-Game Brunch At Blush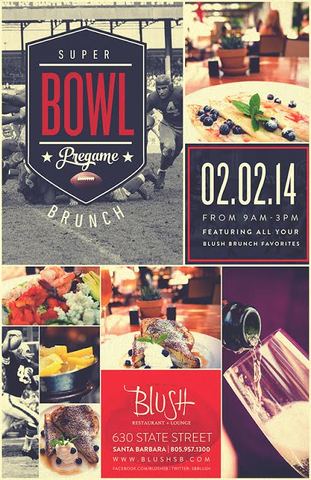 February 2, 2014, Santa Barbara, CA:
On Super Bowl Sunday, February 2, Blush will host a pre-game
Santa Barbara Superbowl brunch
from 9:00 a.m. until 3:00 p.m. at the State Street restaurant in Santa Barbara. Guests can relax in Blush's casual atmosphere while enjoying a wide selection of the Blush Brunch favorites such as Almond Berry French Toast, Orange Zest Pancakes, and Goat Cheese Scramble from Chef Brandon Worrell and his staff. Specialty drink options will include House-Made Fresh Fruit Sangria, a Blush Spicy Bloody Mary and Raspberry Mojitos, or guests can order one of Blush's signature libations.
Depending on the weather, guests will be able to enjoy their Super Bowl Brunch inside while discussing their favorite teams, or outside on the restaurant's expansive patio which has six elegant fireside seating areas. Guests will be able to gather with friends and family and hold a lively conversation about the game.
"We wanted to do something fun for the Super Bowl and offer football fans an alternative to the traditional raucous Super Bowl party," commented Blush owner Asaf Dimant. "We're turning our Sunday brunch into a Super brunch for the Super Bowl. Everyone at the restaurant is looking forward to showing football fans what Blush has to offer."
Blush Restaurant + Lounge combines refined social dining with a contemporary atmosphere that transcends from day-and night while keeping its local roots. Conveniently located in the heart of downtown Santa Barbara, Blush Restaurant + Lounge provides a modern stylish decor with a warm, ambient indoor dining room and exquisite outdoor patio accompanied with fireside seating. It features seasonal Californian cuisine with inventive signature cocktails that truly highlight a classic dining experience at its finest.
About Blush Restaurant + Lounge:
Gayot's review reported, "Nightlife and fine dining collide at this hot-spot in downtown Santa Barbara." Blush Restaurant + Lounge is conveniently located at 630 State Street. Hours of operation are Tuesday-Thurs 11:30am-midnight, Fri-Sat 11:30am-2am, and Sunday 9am-midnight. If you're planning a company party, rehearsal dinner, or elegant wedding reception,
visit the website
and
Facebook page
or call 805-957-1300 for more information. Reservations may be made by phone or booked online.
Email Santa Barbara Restaurants