ASHA Dance Company presents Season Of the Woman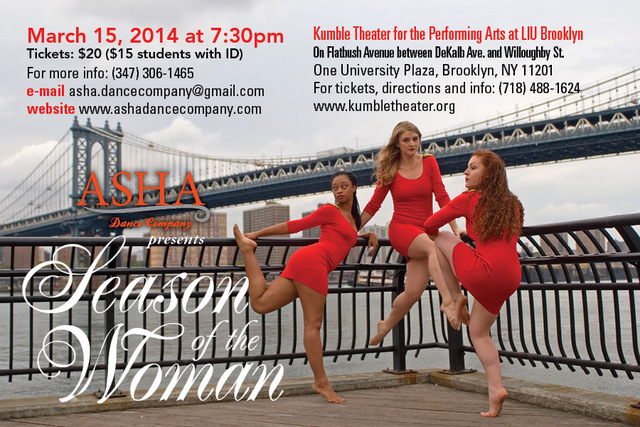 Season Of The Woman Presented By ASHA Dance Company
Brooklyn, NY - February 6, 2014 - ASHA Dance Company is proud to present Season of The Woman March 15,2014 at 7:30PM. The concert will be held at Kumble Theatre for the Performing Arts at LIU One University Plaza, Brooklyn, NY.
Presented in honor of Woman's history month, Season of The Woman, follows the journey of womanhood through a mix of lyrical, powerful and defiantly-strong movements. Featuring dances from Indorican Multicultural Dance Project Season of Woman boasts a collaborative effort on the front of womanhood and dance.
Founded in 2011 by choreographer Nadia Joseph, ASHA shares and explores the art of dance through choreography. Joseph states "Anyone can put together a sequence of steps and call it a dance, but to touch someone through that same sequence of steps is not as simple. It's about how it is delivered and designed; because dance, it's much more than movement."
In its 3rd production season ASHA is proud to present a bigger and bolder cast doubling in size from previous seasons, with a diverse group of dancers hailing from all four corners of the world.
On March 15, 2014 join ASHA at Kumble Theatre for the Performing Arts at LIU in this celebration of movement. Tickets are $20 ($15 with College ID) and available for pick up at One University Plaza, Brooklyn, NY LIU's Box Office or call (718)488-1624.
Please visit ASHA's website at
www.ashadancecompany.com
or check out our facebook for much more information, including videos, bios, and upcoming events.