BVA Scientific Announces Special Offer PD-Tip Syringe Tips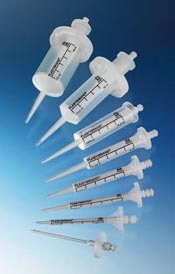 San Antonio, TX -
BVA Scientific
, a leader in scientific lab supplies and lab equipment distribution, announces a special offer on PD-Tip syringe tips. Right now, clients who purchase $500 worth of PD-Tip syringe tips will receive a HandyStep®S repeating pipette at no charge. Plus, clients will receive a free extra gift of "Lab Rat" playing cards.
PD-Tip syringe tips can be used with the HandyStep S and electronic repeating pipettes and most standard repeating pipettes. A precision seal between the piston and cylinder ensures smooth operation, increased accuracy and increased precision. Extended piston design minimizes dead volume and maximizes fluid utilization. BVA Scientific offers PD-Tip syringe tips in non-sterile and BIO-CERT options to meet the most stringent sample integrity requirements.
The HandyStep S repeating pipette, included with any order of PD-Tip syringe tips of $400 or more, provides unprecedented versatility in a purely mechanical repeating pipette. In conjunction the PD-Tip syringe tips the HandyStep S offers nearly sixty different volume settings with accuracy, precision and dependability. The slim design of the HandyStep S is lightweight, well-balanced, and provides a convenient control layout for smooth dispensing and one-handed volume selection.
To order PD-Tip syringe tips and enjoy the added gifts of a HandyStep S repeating pipette and "Lab Rat" playing cards, visit the BVA Scientific website.
About BVA Scientific:
BVA Scientific is a full line distributor of scientific laboratory supplies and equipment. Founded in 1989, we have over 100 years of knowledge and experience in the laboratory supply industry. Located in San Antonio, TX, we serve the continental US, and offer next day service to south and southwest Texas and two-day service to Oklahoma, Arkansas, Louisiana, Mississippi, Alabama and parts of Kansas and Florida. We have expertise in the lab supply business to help you determine the products you need for specific projects, to set up your lab, and to keep your lab running efficiently. For more detail please visit,
www.bvascientific.com
.