Tijuana Bariatric Surgeon Promotes "Weight Loss Pill" on the Fox Business Channel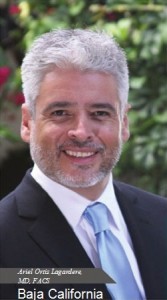 Dr. Ariel Ortiz, the lead bariatric surgeon at the Obesity Control Center in Tijuana, recently appeared on Fox Business' "Varney & Co" to talk about the latest in weight loss technology, the Obalon balloon pill.
Dr. Ortiz explained to the show's host, Stuart Varney, that the Obalon balloon pill is the world's first weight loss device that can be swallowed in capsule form. It is the result of a four-year collaboration with the Obalon company, and is available at the Obesity Control Center.
The Obalon balloon is targeted to individuals who are overweight but do not qualify for weight loss surgery. The patient swallows the vitamin-sized capsule during a five-minute procedure that does not require anesthesia or medication. The patient can immediately resume his or her normal activities following the procedure.
The balloon deploys to about the size of an apple inside the stomach, creating a sensation of satiety, or fullness. The expanded balloon restricts the amount of food the patient can eat, also suppressing his or her appetite.
After about a month, the patient's body starts to adapt to the balloon, and its appetite-suppressing effects start to diminish. The patient then swallows another capsule to maintain the effects of treatment. Two to three balloons may be used over the course of treatment. At the end of treatment, a simple endoscopic procedure is performed to deflate and remove the balloon.
Total treatment time is approximately three months; in that time, patients can lose more than 50 percent of their excess weight.
When Varney inquired about the cost of treatment, Dr. Ortiz noted that it is approximately one-tenth the cost of weight loss surgery. The total cost, which includes the device, medical treatment and nutritional guidance and supplements, is between $3,000 and $4,000.
The Obalon balloon pill has not been approved in the United States, where it is currently undergoing testing. However, it is being used in England and Mexico, and is available at the Obesity Control Center in Tijuana.
To learn more about Dr. Ortiz's Tijuana weight loss practice, please visit
www.obesitycontrolcenter.com
.
About ArielOrtiz, MD, FACS
Ariel Ortiz, MD, FACS, is a premier bariatric surgeon at Obesity Control Center, with offices in Baja and Cancun, Mexico. He has performed more than 9,000 bariatric procedures. At Obesity Control Center, an International Center of Excellence certified by the Surgical Review Corporation, Dr. Ortiz offers
sleeve gastrectomy
, gastric bypass and
Lap-Band weight loss surgery
, among other procedures.
Email Obesity Control Center